I love avocado in guacamole, obviously, and ceviche. And spread on a sandwich. Often I eat it straight out of the shell, just sprinkling it with a dash of salt before attacking it with a spoon. It's just so good.
Hass avocados from Mexico are my favorite. They are the only avocados that are available year-round, in all 50 states! Their rich flavor and creamy texture is unlike any other fruit (or vegetable) I've ever tasted. Full of antioxidants and nearly 20 nutrients, avocados have good fats and are recommended as part of a healthy diet.
Halloween is coming up, with many chances for parties and fun get-togethers. After all, it's the third biggest party day in the country, behind New Year's Eve and Super Bowl Sunday! Creating festive Halloween snacks is always part of the fun of hosting a party, at least for me. They don't always have to involve candy… at our neighborhood Halloween party, for example, we have banned sweets completely, and no one has complained, considering how much candy kids get when they go trick-or-treating. This has made families much more creative when bringing food to the party. Gone are the days when they could bring a box of store-bought Halloween cupcakes!
Everyone associates pumpkins with this time of year, but most people don't know that avocados grow in their native land of Mexico all year long, and ripen in abundance during the fall and winter seasons. A batch of "Spookamole" would be a hit at any party, but sometimes you can't get away with just making an appetizer. There's more to avocados than just guacamole, so I thought I'd share a recipe for a green spaghetti with you, for your next Halloween bash. I messed up and didn't have my camera with me while I was preparing this 🙁 so I created some handy-dandy illustrations on my iPad instead.
Spooky Green Spaghetti
INGREDIENTS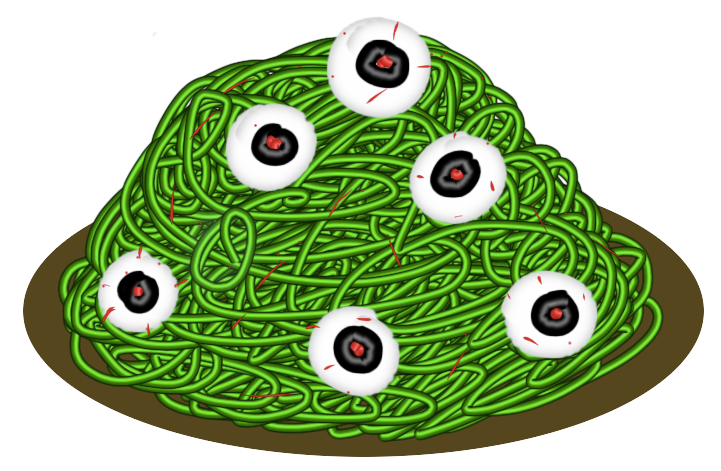 * 10 oz spaghetti
* 1 poblano pepper
* 1 tablespoon butter
* 2 cloves garlic
* 1 small onion, diced
* 2 Hass avocados
* 6-8 oz Mexican crema (You can substitute with sour cream, but might have to thin it out with some pasta water.)
* A few sprigs of cilantro (Optional. This makes it more green!)
* Salt and pepper to taste
1) Cook the spaghetti according to the directions on the package. Reserve a little of the pasta water in case you need to thin out the sauce later on.
2) While the spaghetti is boiling, start roasting the poblano pepper for the sauce. Roasting poblano peppers is probably easiest over an open flame, but I have an electric stove, so my only option would be to fire up the grill, which is too much trouble, so the oven has to do. I set it to 450º and roast the pepper until the skin blisters and starts to char, then turn them over and do the same. Put them in a covered container for a while to let them cool, then remove the skin and seeds, and coarsely chop.
3) While the peppers are roasting, add a pat of butter to a pan over medium heat. Toss the garlic in once the butter melts and starts to bubble. Sauté the garlic for a minute or two, then add the onion and cook until it starts to soften.
4) Peel the avocados, remove the pits, and chop into small pieces.
5) Combine the garlic/onion mixture, chopped poblano pepper, avocados, cream, cilantro, salt, and pepper in a blender or food processor and blend for a few seconds, until smooth. I love using my Magic Bullet for this part!
6) Drain the spaghetti and return it to its pot, and pour the sauce over it. Toss over low heat, until it's heated through, and serve hot, though it's just as good at room temperature.
I'm not great at measuring ingredients (I usually just add things here and there until I like the flavor, so you might want to adjust accordingly. The pepper can be omitted for instance, if you don't like spicy food, and it'll be more like an avocado "alfredo" sauce instead.
To add to the Halloween spirit, you can decorate the pasta with mozzarella "eyes." Press sliced black olives into mozzarella balls, sprinkle with some dried red pepper for the effect of splattered blood, and scatter around the spaghetti. For a fun (though slightly gross) presentation, carve a funny face into a pumpkin and have some of the spaghetti flowing out of its mouth, onto the serving dish.
FYI: I entered this recipe in a fun recipe contest called "Spookamole" that Avocados from Mexico is sponsoring. They'll choose five finalists, and the public will vote on the winner in early October, so wish me luck! There are cash prizes at stake!
Disclosure: I wrote this review while participating in a Spookamole blog tour by Mom Central Consulting on behalf of Avocados from Mexico and received avocado items to facilitate my review and a promotional item to thank me for taking the time to participate.