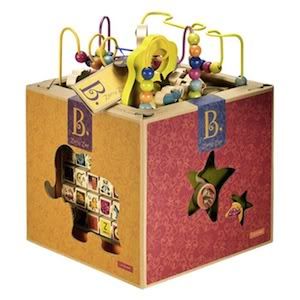 5 sides of fun and seemingly indestructible. Perhaps this is why wooden activity cubes have been a waiting room and nursery school staple for so many years. The Zany Zoo from the innovative creators at B. toys is no exception, giving kids (and nostalgic adults alike) a grand old time.
With no flashing lights, sound effects, and no batteries required, the Zany Zoo relies on bright colors, catchy illustrations, and lots of moving parts to captivate the attention of its users (targeted at ages 1-3 years). I was a bit nervous when presenting the Zany Zoo to my two-year old. Would he get it? Would the lack of modern technology send him running away in search of something with a microchip?
He loved it! He really loved it! He was immediately drawn to the zigzag paths and started sending the elephant, gorilla, and snail up to the top of the path and then (with his own sound effects) sent them shooting back down. This was performed over and over and over again. Meanwhile, I had a trip down memory lane and spun the alphabet tiles over revealing beautifully illustrated animals. "U" for unicorn cracked me up (I guess they never said that the animals had to be "real") as did "X" for X-ray which revealed fish bones (close enough).
Later in the day, as I was making dinner, a strange quiet came over the house. Uh-oh. I rushed into the living room and found C happily pushing beads along the wire loops. He moved the beads and then had the ducks (quack quack) follow the loopty-loo routes. He had a bit of a tough time getting some of the ducks to move as the paths really are quite loopty (is that a word?) However, this did not seem to damper his spirits and he was happily entertained long enough to get dinner on the table.
There are several selling points for this toy. It is beautifully crafted and would make a terrific gift. In B. toys fashion, it comes in a box that's ready to gift, so no wrapping is required, which is especially good as it would be out of my wrapping skill range (it's large and bulky). B. toys also donates 10¢ to Free the Children. However, the biggest (and quietest) selling point for me is the silence–there are no songs, no bells, no wacky sound effects. The only sounds you hear are kid-powered which is music to my ears.
BUY IT
"Zany Zoo" and other B. toys are available at Target stores, Target.com and select specialty stores around the U.S. Visit their website for additional information. The Zany Zoo retails for $59.99.
Disclosure: I was provided with a complimentary "Zany Zoo" in order to facilitate this review; the opinions are my own.