Maura has been feeding herself for a while now, but does tend to get frustrated when using a spoon or a fork. The food she manages to pick up will fall off her spoon before she gets it to her mouth, or sometimes she'll miss her mouth altogether, which leads to her throwing the spoon or fork on the floor in frustration and just picking the food up with her fingers.

This is why I was eager to try the BabyHuman Play & Learn Baby Spoon. It may not look like a typical baby spoon, but that's because it's a "functional toy" that's meant to help baby transition to eating with a real spoon.
We've been testing it out everyday for the last week or so, and I'm very happy with it. It's recommended that your child eat custards, mashed potatoes, pudding, yogurt, and other scoopable foods with it, but I found it to work just as well with rice and small veggies. I tried to introduce it to her as a toy at first, but she automatically knew it was supposed to be used as a spoon. It could work well as a teething toy as well – Maura has a couple of teeth coming in, and she found it soothing to bite on the soft rubber.
There are a few features of the spoon that I really like:
it's made of durable BPA, phthalate and lead-free rubber, so it's safe, flexible, and can hold up to rough play
it's double-sided, so it can be switched from left hand to right easily; there is no wrong way to use it
the curved handle makes it easy for baby to line up the spoon to her mouth
the lateral guards, that keep baby from putting the spoon too far in her mouth and gagging
it can be washed in the dishwasher, although I've only done so by hand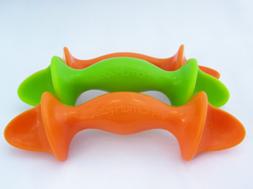 You can find the Play & Learn Baby Spoon on Amazon for a very reasonable price of $8.99 for a pack of two. They come in an eye-catching green and orange, and a portion of proceeds from the sale of BabyHuman products go to children's charities and developmental research. It's always nice to support companies that give back!
Thanks to BabyHuman for giving us the chance to try out this great spoon.