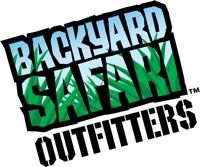 Maya, my 5-year-old, spends most of her time playing outside. She's happy just playing on her swingset or walking around exploring, but add some fun field gear to the mix, and outdoor play becomes an adventure!
Backyard Safari Outfitters equips young explorers like Maya with all the essential field gear they could possibly need for scoping out wildlife in their backyard or local park! From tools to catch insects, to binoculars for bird-watching, the collection includes more than 30 different products, including the practical Cargo Vest, the cool Bug Vacuum, and Mega View periscope shown in the photos below.
Maya doesn't go outside without her cargo vest! Made of a rugged poly-twill fabric, it's really good quality. There are plenty of cargo pockets, as well as six D-Rings and two shoulder pieces with snap closures that let you clip and hang all kinds of stuff! The large pocket is perfect for storing binoculars, and the clear-view chest pocket for the Pop-Up Field Guide, which comes with each Backyard Safari Outfitters product. It's full of rich illustrations and ideas to inspire backyard exploration. The vest is a little big on her, but it's comfortable. I'd say it easily fits a 5-9 year old, and at $19.99, it's a good value.
The Bug vacuum allows you to capture bugs without ever touching them! For an ordinarily squeamish 5-year-old, this was a big deal! She started capturing little, defenseless creatures like roly polies but has moved up to bigger, scarier insects… I've found it to be very handy myself, to get rid of spiders and crickets that I sometimes find in the house. This little contraption has really helped Maya conquer her fear of bugs. I rarely hear "ewwww! A bugggggg!" anymore. I think she's also learned compassion. She can catch a bug, observe it for a bit with the built-in magnifying glass, and release it outside. The Bug Vacuum retails for $19.99 and requires four "AA" batteries for operation.
The Mega View Periscope is very cool! 3 nested sections telescope for a reach of over four feet! This allows for stealth viewing over high bushes, backyard fences, and around corners. The water feature is neat. Flip the periscope upside down and a full 16 inches of it can be submersed into a pond, lake, or pool for under-water viewing. It would probably be fun to take to the beach as well! There have been a few times when Maya's knocked her sister 'upside the head' with it, walking around carelessly with the periscope fully extended, but for the most part it's been super fun to use! The wide-view face is easy to look through and the hand grips are comfortable, making it easy to hold. You can buy the Mega View Periscope for $24.99.
Backyard Safari Outfitters allows kids to not just walk through nature, but experience it with these products that encourage kids to get active, play outside, and explore! Best for kids ages 5 and up, this essential field gear is available now at Toys 'R' Us, Walmart, Barnes & Noble, Amazon.com, and Target. For more information about Summit Toys and a complete list of Backyard Safari products, please visit www.summittoy.com. You can also find Backyard Safari Outfitters on Twitter and Facebook.
Product samples pictured above were provided to me in conjunction with a Team Mom campaign.