If those names don't sound familiar, they should! If you've ever watched ABC's hit show Dancing With the Stars you know exactly who I'm talking about. Not only are Mark Ballas and Derek Hough amazing on the dance floor, but they're good singers as well! I can't believe how hard these guys are working!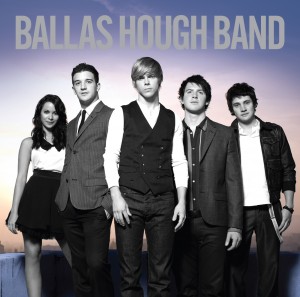 Ballas Hough Band was signed to a record deal with Hollywood Records last summer, and they've been at it non-stop since. The DWTS tour ended in early February,  where they played shows in many of the 38 cities they visited. Their debut album BHB was released earlier this month, around the same time as the new season of DWTS. They train all day for the show, and then play at local LA clubs at night. Crazy, but all in preparation for their upcoming summer tour. Oh, and did I mention Mark and Derek wrote more than half of the songs on the album?!
I wasn't sure what to expect when I listened to BHB for the first time. My first impression was that they sound a lot like a boy band. Think *N Sync but with more of a rock twist. Their first single, "Do It For You", is probably one of my favorite songs from the album, and was co-written by new American Idol judge Kara DioGuardi. I also love the vulnerability of "Underwater" and the fun, upbeat "Birthday". I'd let Mark treat me like it's my birthday any day. *wink wink*
So follow the band onFacebook, MySpace, and YouTube for news, tour information, and to listen to some of their songs! If you like what you hear, you can buy BHB on Amazon, iTunes, or your favorite music retailer.