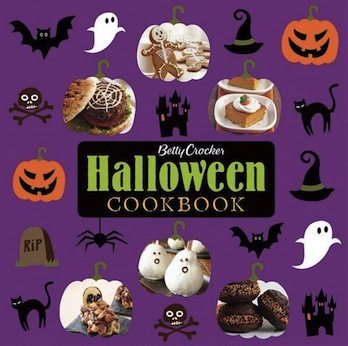 It's isn't hard to find a sweet treat for kids to eat at Halloween time. So when the new Betty Crocker Halloween Cookbook arrived, I skipped over the desserts and headed straight to the "Bewitching Bites" and "Mystifying Main Dishes," as the book calls them. My kids are big on presentation, so I thought some ghoulish-themed food might be a good way to work a few new dishes into our dinner lineup.
The Pizza Pot Pies and Chicken Enchilada mummies will make for a nice change in dinner routine. Their familiar ingredients combined with a fun look could actually result in a dinner hour where nobody whines. But the cookbook also offers some twists on some old standards. My husband, who is our griddle king, went to town with the pancake designs.
Hot dogs are a staple in most young families. Pictured here are the Halloweenies, which I served at the Fisher-Price Joy of Learning Playdate I just hosted. Apparently this recipe is also magical because the weenies in a blanket just disappeared. Plus what's not to love about a recipe where messier is better? The "cutest" mummies are the ones with the sloppiest bandages! The parents ate as many as the kids did.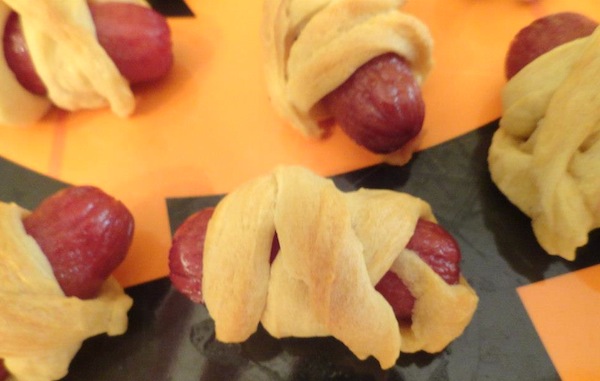 I really like the fair number of recipes that will appeal to adults and kids. We're in a playgroup that throws a big Halloween party every year, and I can't wait to try the Scary Slow-Cooked Chili and Pumpkin-Spice Spread with Bat Wing Dippers. And because of the colors and themes, many of these recipes will transition nicely into fun fare at Thanksgiving.
Being Betty Crocker, the recipes are easy and fast to make. It does mention many brand name products (naturally) so be on the lookout for those Box Tops.
Now remember that part where I said I skipped over the desserts? Well, I am only human. I couldn't resist trying the Trick-or-Treat tarts (photo below). The kids never had a chance with these. They were reserved for adults! I added more candy bar than the recipe called for – I like my caramel and nougat.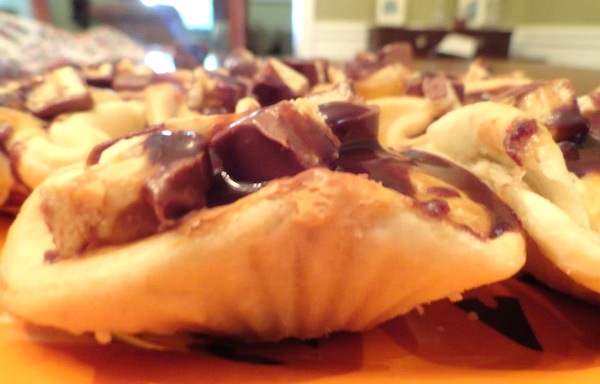 And when you're ready to carve your pumpkins, check out the recipes for pumpkin seeds, like the Roasted Pumpkin Seed Brittle.
The Betty Crocker Halloween Cookbook has our family looking forward to playing some new tricks this season with our Halloween treats. Find it on Amazon and at retailers nationwide.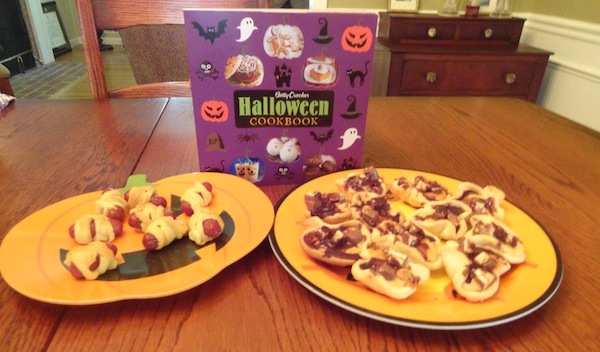 Disclosure: I was provided with a complimentary copy of the book to facilitate my review.