I don't even want to think about how much money I've spent over the last four years on hair accessories for my daughters! Sure, a few dollars here and there doesn't seem like much, but if I were to add it all up I'd probably qualify for a government bailout. Okay, maybe that's exaggerating a bit, but I know I've spent a LOT on bows, headbands, and barrettes. The sad thing is I don't have much to show for it. My girls have a small drawerful of stretched out headbands, random bows, and barrettes that are broken, but I keep with the intention to one day fix.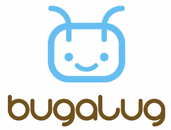 My first impression of the hair accessories I received from Bugalug is that they are packaged nicely, just like something you'd find at a boutique. The reason I mention this is because Bugalug is a mom-owned, home-based business. 15-or-so women, many of them stay-at-home moms, make all these accessories by hand back in Calgary, Canada. I guess I expected them to look a little more homemade.
Bugalug barrettes started it all. Just like every other invention, they were designed out of need – a need for a hair clip that would actually stay in a baby's hair. My toddler has thin tresses, so even some of the 'no-slip' hair clips fall out after a few minutes. Bugalug clips are different – they have a silicone gel grip that keeps them in place. If you've ever worn thigh-highs, this gel strip is very similar to what keeps your hose up on your legs. When I first tried a clip on my daughter's hair I was afraid her hair might stick to the gel and it would hurt when I removed it, but that wasn't the case at all. The entire clip is lined with ribbon, and with so many different colors and patterns to choose from it's easy to mix and match barrettes with everything in your little girl's closet.
The ribbon headbands are amazing! One size fits most, even adults. The design is so simple, yet ingenious. All the headband uses is a small plastic toggle that lets you adjust the it to the perfect size for your head. Ours is made of pink satin ribbon printed with fine stripes, from the Purple Rain collection. It reverses to all purple on the other side, so it's like having two headbands in one! The trickiest part was putting it on for the first time, but I've gotten the hang of it and can even do it with one hand. Maya can't put it on by herself, but if it wasn't for me she would even brush her hair, so that's not really an issue.
Unlike every other headband we own, the Bugalug headband didn't slip off her head at all and there's no elastic or hard plastic digging into her tender scalp. She even forgot she was wearing it until she looked in the mirror as she was brushing her teeth right before bedtime. Maya, Maura, and I have all shared it, and I can tell you that this is a first. I might just order one or two for myself because they really are comfortable and I'm not ready to start asking my daughters if I can borrow their accessories… just yet.
But I'm not done! We also tried the pony loops. I don't have that much to say about these because my girls aren't too big on pony tails. The great thing about the pony loops is that each one is unique. I love all the different colors and styles. Even if you get two of the same style, they'll look a little different because each pattern is handcut. I've been wearing one in my hair and it does its job well. Nice and tight, but no snags. I find that the bright color definitely 'pops' in my hair. It's hard to take a photo of the back of my head, but I'm sure you get the picture!
One of Bugalug's newest products (and my favorite out of everything we've tried) are Soother Saver soother clips. Due to their popularity, they're sold out at the moment, but as soon as they're back in stock at the beginning of March, you MUST get your hands on one. I love, love, LOVE it.
I'm trying to wean my daughter off her paci, so I wasn't expecting to like this clip as much as I do. The thing is… it's multifunctional! Besides its obvious use, you can snap two clips together and you've got on instant bib or mitten clip. It has two snaps, so it can be kept long for a regular soother clip, short for smaller babies, or you can use it to loop through toys or sippy cups. Most importantly, it's well-made! The metal clip is durable, unlike plastic ones I've owned in the past, and the jeweled snaps just add to the cuteness factor!
Bugalug offers a unique gift idea that I haven't seen anywhere else – a Clip of the Month club. For a one-time fee of $40, members will receive a new and exclusive hair clip every month for a year. Kids love getting mail, and this sounds just perfect. It's practical, and something that lasts all year-long. Also included in the membership are valuable coupons from Bugalug and other retailers, making it worth over $100. The club is approaching 100 members… and get this – the 100th member will win a Bugalug prize pack worth over $50!! Exciting both for Bugalug and whoever wins the prize!
Valentine's Day is coming up, and Bugalug is on top of it with heart ribbon barrettes, pony loops, and Valentine's cards. You can buy a clip and add it to the front of the card for an adorable and creative gift any little girl will appreciate.
Bugalug is available in boutiques in several countries, including Canada and the United States,  You can also find these cute accessories at a variety of online retailers. Everything in the store is $10 or less. Check out www.BugalugBaby.com for more information.
And don't let the word "baby" in the website's name deter you! These hair accessories are perfect for girls of any age!
A big thank you to Bugalug for this review opportunity!