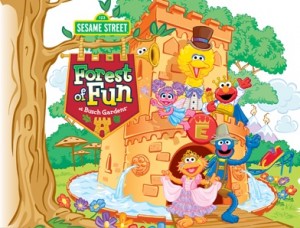 The Sesame Street Forest of Fun at Busch Gardens in Williamsburg will open its doors to guests today – Friday, April 3… and we'll be there!
We'll get a preview of the all-new 4-D movie, have lunch with our favorite Sesame Street friends, and experience the new rides.
With the grand opening of this part of the park, Sesame Street Forest of Fun expands Busch Gardens' KIDsiderate attractions. Besides the 4-D movie in the Globe Theatre, there are also four new rides including a children's roller coaster, flume ride, rock-n-tug and a mini shot drop.  In addition, a stage featuring daily performances by some of Sesame Street's most popular characters, a wet and dry play area with net and rope climbs and a "1, 2, 3 Smile With Me" photo area.  The 1.5 acre area will be themed after a European village to stay true to the park's overall theming. Busch Gardens will offer character dines where families can reserve a meal with some of Sesame Street's most beloved characters like Elmo, Oscar the Grouch, and Bert and Ernie.
Does that sound like SO much fun!?