This is a guest blog from one of my Team 4all teammates, Erin of www.themombuzz.com. Erin buzzes parenting tips and product trends, along with blogging about her own fitness goals.
There once were two different women and their views on a "mom body".
Woman #1: The first is actually an acquaintance of my husband. She is pregnant right now. She has told him a few times that she is trying not to gain weight and will skip meals, because she is afraid of what the weight will do to her body. This has already caused her to faint at work.
Woman #2: A friend of mine is done being pregnant. She has gained some weight, and although she doesn't like it, she figures it's just a part of motherhood and should accept it.
Whether you view the "after-baby" body with dread or grim acceptance – the truth is, your "mom-body" can be the best you've ever had. I've had some extra "junk in the trunk" – thank you Freshman 15. And I've also been way too skinny for my frame – thank you Senior Year Stress. But eventually as an adult my weight settled into what was an appropriate BMI range. I had my babies and my "after-baby" body ended up being skinny-fat.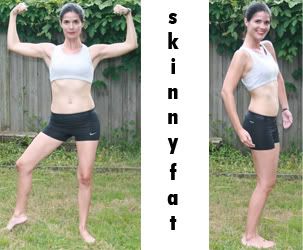 Never heard the term skinny-fat before? Well, it's someone who looks slender, but they have no tone. So there is extra flab where you just don't want it. It was as if my babies ate all my muscle! And it showed as a flabby butt and everything seemed so jiggly. Then I saw a bodybuilding show with my husband and was SO IMPRESSED at how these men and women transformed their bodies. And depending on the weights and routines they did, they could either be scary-huge or trim and toned. I decided that if they could do it, I could do it.
So this is what we are fighting after pregnancy- weight gain and lost muscle tone. Most of the weight gained during pregnancy should just be "baby weight" – extra blood, water, placenta, baby, etc. But some women might gain extra fat. Plus, since many women are less active during their pregnancy, their muscles will actually decrease. And that abdominal muscle that keeps your "stomach" looking flat, that usually separates so you are a little more prone to the pooch. So the simple answer is, increase muscle tone. Extra muscle will tighten up flabby arms, lift your butt, flatten your belly and continue to burn calories even when you aren't exercising. Muscle is your friend.
Ready to get a hot mom body?

1. First you need to find the time to work out. I usually work out in the evenings, after my husband gets home. Weekends I work out in the afternoon or morning. You don't need to be at the gym everyday – I get it accomplished in 45 minutes 4x a week, not counting cardio. Sometimes I go to the gym before my husband goes to work. When I was at the office, I would sometimes go during lunch time.
2. Next you need to figure out where you will work out. I always prefer the gym since it has all the equipment I need. My gym membership is $30/month for a 24-7 gym. It is always open and that is a busy mom's best friend. If you can't get to the gym, try kettlebells or videos at home. You can even use your own bodyweight to get started (push-ups, pull-ups, squats, dips).
3. Develop a routine: I find that the easiest way to start is to do three exercises per body part per week. So find three different exercises for your back, hitting it at different angles, and do that 1 x a week. The list of body parts I like to hit are: Back, Biceps, Triceps, Legs, Chest, Shoulders and Abs. Many people like to work out the back by itself since it's such a large muscle. And legs is definitely a work out on its own since you are trying to hit quads, glutes, hamstrings and calves. But you can do Triceps with Biceps and Chest with Shoulders. And every time I am at the gym I try to do 1 – 2 ab exercises. Need ideas for what to do – YouTube is your friend. Just type in Bicep Exercises, and you'll have loads of ideas to choose from. Every month, switch up your routine.
4. Sets and Reps: Once again, if you are just getting started we'll keep it simple. I already said you want to start with three exercises per body part. But also try to do 3 sets of each exercises, with a small minute rest between the sets. And do around 10 reps for each set. This sound confusing, but here is an example. On leg day, try some squats. That is just one exercise you will do for your legs that day. If you are following the beginner's plan, you are going to try to do 3 sets, 10 reps each. So you start set 1 – you lower and raise yourself to and from a sitting position 10 times (reps). Then you stop. This is your minute rest. After the minute you do this same exercise again 10 more times. Rest again for a minute. Finally, do your last set.
5. What about weight? I think how much weight to use can make some women feel intimidated. Simply put, you want to use as much weight so that it's challenging, but you aren't injuring yourself. If you are doing a Dumbbell Shoulder Press with 5 pound weights and they are flying up – then it's too light. You want to challenge the muscle to grow. But when starting a new exercise, err on the side of caution and choose the lighter weight. I still do that when trying a new exercise, since it helps me get a feel of the correct motion to begin with.
6. And cardio? When it comes to getting an in-shape mom body, I definitely prioritize strength training with weights. I would personally say add in cardio when you find time or when you hit a plateau. Weight training and cardio are GREAT together, but if you only have time for one or the other I'd choose lifting weights first. Remember, building muscles is what will get you toned and tight everywhere. When I did just cardio, I never lost that skinny-fat look – it wasn't tightening the muscles, just burning calories. That said, I get my cardio in through Zumba at the gym, dance games on my XBox Kinect and I will be starting sprints with my husband soon. There are so many games, lessons, videos and equipment that can get your heart pumping and calories burning.
7. FOOD: As you begin your exercise program, you will be hungry. Don't ruin your hard work by eating the wrong things. Aim for 6 meals a day to keep you from starving. The meals are small and should be packed with protein. An example meal would be 1/2 cup brown rice, 4 ounces of chicken and loads of veggies. You can add spices to your heart's delight. Lemon and lime give things a wonderful flavor and I do a lot with dijon mustard. Just avoid creamier sauces. And also look into getting some flavored whey protein, which I love to mix with milk or water for my first meal of the day. Think you'll never have cake again? Just plan on a cheat day or meal on a Friday or Saturday and eat it without guilt.
These were just a few beginner's tips on how to reshape your after-baby self. Your mom body can be the best body you ever had with a little sweat!
You can visit Erin at her blog – www.themombuzz.com – where she talks about product trends, parenting tips and being in shape.