I must say I always look forward to watching CBS on Monday nights. With Two and a Half Men, How I Met Your Mother, The Big Bang Theory, and CSI: Miami, it's been must-see TV for me for a long time.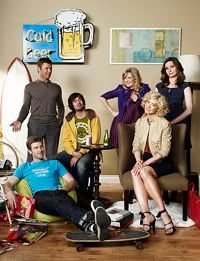 This Fall, CBS has shuffled things up a bit by changing show times and adding a new comedy into the mix – Accidentally on Purpose. I was able to preview the pilot episode and enjoyed it. This sitcom stars Jenna Elfman as Billie, a single woman who finds herself "accidentally" pregnant after a one-night stand with a much younger guy. She decides to keep the baby… and the guy. It feels like forever since I watched Jenna in Dharma & Greg; I forgot how much I loved her! It's nice to see a female comedienne in what has been a male-dominated night up until now. The show also stars Jon Foster as Billie's "boy toy" and Ashley Jensen as Billie's best friend, Olivia (you may know her from Ugly Betty). I won't give too much of the show's plot away, but it did remind me a lot of the movie Knocked Up. I'll definitely tune in this upcoming Monday to see what happens next!
You can catch Accidentally on Purpose every Monday night at 8:30PM EST. Here's a short clip:

But Monday's not the only night that you can expect new shows on CBS! Tomorrow, September 22nd, is the premiere of The Good Wife. This hour-long drama stars Emmy Award winner Juliana Margulies as Alicia, a wife and mother who bravely assumes full responsibility for her family and re-enters the workforce after her politician husband's very public sex and political corruption scandal lands him in jail. Sound familiar? Chris Noth plays her cheating husband. You may know him as Sex and the City's Mr. Big!
This show engaged me for the full hour. I felt sympathy for Alicia's character, wondering to myself how hard it would be to go back to work after 13 years of being a stay-at-home mom. For the first time in years, Alicia trades in her identity as the "good wife" and takes charge of her own destiny. I'm glad it didn't focus so much on her husband, as it does on how she's dealt with the situation and the cases she's working on as a lawyer.
The Good Wife is on every Tuesday night at 10PM EST. Here's a short clip from the show: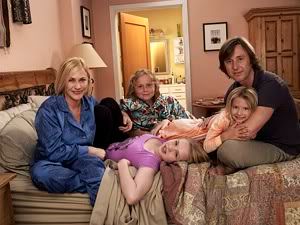 Earlier this year, CBS bought Medium, which used to be on NBC. It originally premiered back in early 2005, inspired by the real-life story of research medium Allison DuBois, an extraordinary young wife and mother who, since childhood, has struggled to make sense of her dreams and visions of dead people. Emmy Award winner Patricia Arquette stars as DuBois, a devoted young wife and mother of three girls who has gradually come to terms with her extraordinary ability. She uses her psychic abilities to solve violent and horrifying crimes that baffle police and others within the criminal justice system. Last season ended in suspense, with Allison being diagnosed with a brain tumor after experiencing headaches and other symptoms. She postponed her surgery, resulting in her suffering a stroke and ending up in a coma, leaving her life hanging in the balance.
Medium premieres this Friday, September 25th, at 9PM EST. A clip from the show:
* Photo and Video Credit: CBS Broadcasting, Inc.