I'm not one for New Year's resolutions, but it is nice to start a new year with a new look. Instead of the usual haircut, I thought I'd go for new eyewear this time around!

I recently learned about Coastal Contacts. I've never purchased contacts or glasses online, so this was a first for me.
The Coastal Contacts website is very user-friendly. You can easily find all the most popular contact lens brands, see the current promotions, and even read about the anatomy of the eye and contact lens safety, among other helpful topics.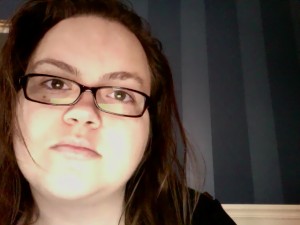 Glasses start at just $38, including lenses! I almost fell over when I saw that price. Even my sister, who's an optician at Wal-Mart, was shocked. "They must be cheap plastic lenses," she said. Nope. They are thin, light, polycarbonate lenses with UV protection, and anti-reflective and anti-scratch coating. You can even get them tinted (costs extra).
Coastal offers a huge selection of designer frames – Armani, Calvin Klein, Gucci, just to name a few. My glasses are from the Swedish-designed Ltede collection. The brown acetate frame is very stylish, and matches my hair nicely, if I may say so myself. Included in the package was a case, cleaning cloth, and the cutest little keychain tool to adjust the fit of my glasses.
In the past I've spent $200+ on glasses, so I end up keeping them until they're broken beyond repair or my prescription changes. With Coastal's great prices, it's quite possible to have more than one pair of glasses, to match different outfits (or moods!), and they still wouldn't add up to the cost of one pair that you buy at the store.
Ordering only takes a minute. You find what you want to buy, enter your prescription, and add the item to your cart. That's it! When you checkout you'll be asked for your eye doctor's information to verify the prescription, or for even faster service you can fax in a copy of it. The trickiest part of the ordering process for me was the PD measurement, the distance between my pupils. I tried to do it myself with a ruler, but ended up a little cross-eyed and found it easier when my husband helped.
This obviously wouldn't be an issue when purchasing contacts! You can find all the major contact lens brands here. Acuvue 2, the kind I use, are cheaper than what they cost from my optometrist, and (with an automatic rebate) just a little bit lower in price than 1-800-Contacts. You can sign up to receive e-mails about their special promotions. Another bonus is that you probably don't have to wait as long to receive them as you would if you ordered them from a store.
Coastal Contacts offers a "Buy Now, Pay Later" option that I haven't seen anywhere else. They don't check your credit or anything like that; all you have to do is place your order via their website or by telephone and your purchase will be delivered to you with an invoice. Once you receive your invoice, you have about two weeks to pay for your order – online, over the telephone, or by mail. This is perfect for when you're short on cash and have to wait until payday, or for those that are afraid to give their credit card information out over the Internet. Shipping is very reasonable and fast, and if you spend $99, it's free!
In a nutshell, Coastal Contacts is a one-stop shop for all my optical needs! Not only can I purchase contacts and eyeglasses, but they also sell sunglasses, unique contact lens cases, and contact solution in bulk. For contacts, they even offer an auto-refill option so you'll never run out again!
Take a moment to check the site out for yourself. Compare prices for your preferred brand – if you find a better deal somewhere else (which I doubt) Coastal Contacts will refund you the difference. Other than getting a periodic eye exam, I don't think I'll be visiting an optical for any other reason from now on! I'm so pleased with the excellent customer service and the quality and value of the glasses I've gotten from Coastal Contacts, that I will continue to use them in the future.