There's nothing more American than hosting a good old fashioned barbeque on the Fourth of July! This summer, three great ConAgra products can help put the final touches on your next backyard meal. Hot dogs are a given, right? Made with premium cuts of beef and no fillers, by-products, artificial flavors or colors, Hebrew National hot dogs provide a great solution for barbeques. Topped with Hunt's 100% Natural Ketchup or Gulden's spicy brown mustard, you have all the makings of a classic summer dinner. These three products are available at grocery stores nationwide: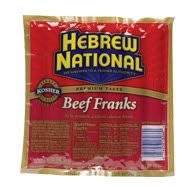 Hebrew National is my favorite hot dog brand, specifically their all-beef franks. They're made with 100% pure kosher beef, so I have confidence in their quality. They taste great and fit perfectly in a hot dog bun. Last summer I was lucky enough to win a whole case of these hot dogs! When grilling franks, keeping the heat at medium heat makes for a perfect, juicy hot dog. Grilling over charcoal gives them the best flavor. Remember to use tongs to handle the franks as they cook instead of a fork, so you don't lose any of the precious juices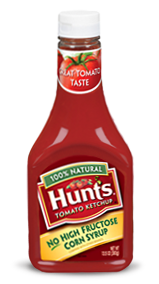 Hunt's 100% Natural Ketchup is a new ketchup product that has no high fructose corn syrup! Hunt's realized there was a demand for natural products, so they created this ketchup sweetened with sugar and containing only five simple ingredients – tomatoes, sugar, vinegar, salt and other seasonings. No high fructose corn syrup, artificial ingredients or preservatives… just the naturally rich tomato flavor of Hunt's tomatoes. I didn't do a side-by-side taste test, but I love ketchup, and honestly couldn't tell the difference between this and regular ketchup. Neither could my kids! What's really great is that the price for this new ketchup is the same as the previous version!
Gulden's happens to be the third largest American manufacturer of mustard! Best known for its spicy brown mustard, Gulden's also makes a Zesty Honey Mustard and classic Yellow Mustard, which is what we sampled. Any of these are perfect for topping a hot dog, spreading on a sandwich, or mixing into a favorite recipe. Gulden's mustard has a bright, zesty flavor that compliments many different foods. It's also 100% natural, made with only vinegar, mustard seed, salt, turmeric, paprika, and garlic powder. Adding a couple of tablespoons to a sandwich, or mixing it into a dressing, is a really great way to add a lot of flavor with no fat and very few calories. I always add a little mustard to egg and potato salads as well! Yum!
Summer months provide a special break for kids filled with long bike rides, afternoons spent exploring, and evenings outdoors, playing in the yard with neighbors while we parents barbeque dinner and enjoy a fun meal outside. Does your family like to barbeque?
I wrote this review while participating in a blog campaign by Mom Central on behalf of ConAgra and received a picnic bag with samples of ConAgra products to facilitate my candid review. Mom Central also sent me a gift card to thank me for taking the time to participate.