Country Dance 2 is a Yee Haw of a good time! A sequel to the Country Dance game that was released earlier this spring, it is just as fun as the original, but features new, chart-topping songs by popular country artists, including Carrie Underwood, George Straight, Jason Aldean and Easton Corbin. Country Dance 2 also includes many new features that add to the fun. These new features include a freeze-dance mode, a sing-along mode, dual dancing options and also a calorie counting exercise mode. I found that these additional features add many more ways to enjoy the game.
Overall, the dances are easy to pick up. However, if you are looking for more of a challenge, there are settings that increase the skill level. The freeze dance option is a nice addition and added an extra challenge for my children. I like the exercise mode addition to this sequel and think it is another great way for those of us who need to shake up our typical exercise routine or substitute our trips to the gym. This game is also a good way for my daughters to get in a fun workout and burn some calories when the weather is too cold to go outside.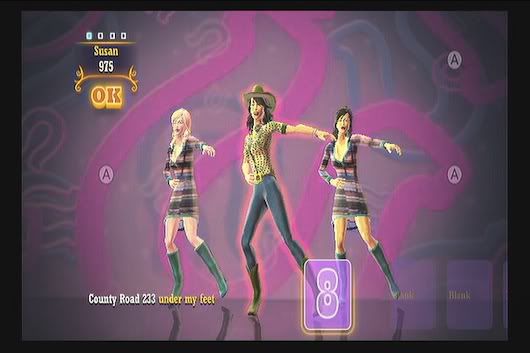 Country Dance 2 is a game our entire family enjoyed, which is a huge selling point for me given that my kids' ages are spread apart and that many kid's games are not fun for adults. It has to be fun for this Mom and Dad to really want to play the Wii with our kids. Even our one-year-old danced along side of us, having a blast and acting like he was playing, too. I suggest this game as a great gift for any country music lover who loves to dance!
 BUY IT!
Country Dance 2 is available now for the Wii. Priced at $39.99, and rated E10+, you can find it at Amazon.com and other video game retailers nationwide. For more information about Country Dance 2 or the Country Dance franchise, please visit www.game-mill.com, on Facebook at  www.facebook.com/CountryDanceGame, and on Twitter @Country_Dance.
Country Dance 2 Complete Song List:
Ashton Shepherd – "Look It Up"
Billy Currington – "People Are Crazy"
Blake Shelton – "Honey Bee"
Brad Paisley – "Old Alabama"
Carrie Underwood – "All American Girl"
Chad Brownlee – "Carried Away"
Chris Heers – "Dirt Rich"
Dierks Bentley – "Sideways"
Easton Corbin – "Roll With It"
Eric Church – "Hell On The Heart"
Frankie Ballard – "A Buncha Girls"
George Strait – "Here For A Good Time"
Gwyneth Paltrow – "Shake That Thing"
Hayley McLean – "Good Time Bone"
Hunter Hayes – "Storm Warning"
Jake Owen – "Barefoot Blue Jean Night"
Jason Aldean – "My Kinda Party"
Joanna Smith – "Gettin' Married"
Josh Kelley – "Georgia Clay"
Josh Thompson – "Won't Be Lonely Long"
Katie Armiger – "Best Song Ever"
Keith Urban – "Better Life"
Kellie Pickler – "Tough"
Lady Antebellum – "Lookin For a Good Time"
Little Big Town – "Little White Church"
Luke Bryan – "Country Girl"
Miranda Lambert – "Gunpowder & Lead"
Montgomery Gentry – "What Do Ya Think About That"
Rodney Atkins – "Take A Back Road"
The JaneDear Girls – "Wildflower"
The Last Ride– "Take You Down"
Disclosure: The Country Dance 2 game was given to me to facilitate my review. All opinions are my own and I was not paid to write this post.