Cozi is a web service that helps you and your family keep in touch and get organized. Right now my schedule is pretty tame since my girls are so young, but I can just imagine how it'll be in a few years, and know many people that could use NEED this service. (Mom, are you reading this?!) It's almost like having a virtual personal assistant on hand 24/7!
The main feature is the shared family calendar. It's color-coded by family member so it's easy to keep track of individual schedules or see all of the family's activities together. You can even add your babysitter or nanny to it, so there's never any confusion about what is happening when! The calendar is so easy to use, has a nice, uncluttered layout, and is printable by the month or week.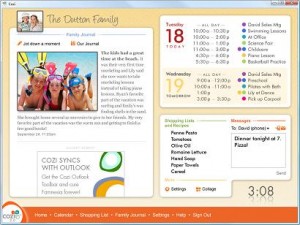 But I'm a big list-writer. I have a to-do list, a shopping list, chores list, birthday list… you name it and I've probably got it written down on a list somewhere. For this reason, I'd have to say my favorite Cozi feature is the customizable lists. You can create basically any kind of list, share it with anyone in your family, and easily add items to it. It's ideal for keeping a running grocery list!
The cellphone options are really neat. If you forget when a particular event starts, for example, you can call Cozi and have the day's activities read to you over the phone or sent by text message. This works extremely well at the grocery store because you can have your shopping list sent to you whenever you happen to step foot in the store.
If you just got a new iPhone or a Windows SmartPhone for Christmas (or have had one for a while), you're going to love this: In addition to the ways that you can get your shopping lists and calendars already on any mobile phone via text message and using their toll free number, Cozi now has a mobile version especially for the iPhone and Windows Mobile phones! Now you can access your Cozi account using a mobile web browser. Add and edit shopping lists and view and edit the family calendar right from your iPhone. This is a new feature! I do SO much on the computer already, that knowing this almost makes me want to shell out the extra $30 a month for an iPhone!
I know I said that the customizable lists are my favorite feature… but I really must say that my favorite favorite thing about Cozi is that it's FREE! There are lots of other fun elements, but I don't want to give it all away! You'll just have to visit Cozi to see what it's all about. Through February 4th, 2009, everyone who signs up and tries Cozi will also be entered to win a two-day home organization makeover with professional organizer, and incoming NAPO President (National Association of Professional Organizers), Laura Leist. In Laura's two-day visit, she will makeover either the kitchen or home office in one lucky winners' home; a service with a retail value of $5,000. My kitchen's not looking so bad, but hubby's office could use a serious re-haul.
So what are you waiting for? Get organized in '09 with Cozi. And remember, it's free!
Thanks to Mom Central for introducing me to Cozi!