For the past few weeks I've been using the new Crest Pro-Health Complete Rinse twice daily as part of my daily routine. This one-month test drive program with Mom Central has me focusing on my habits and what I can do to improve my oral health practices.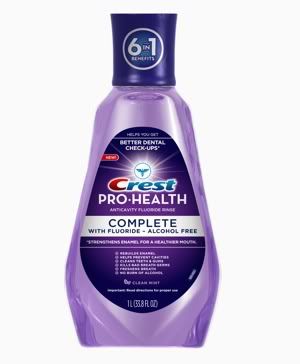 Crest Pro-Health Complete Rinse provides six benefits in one:
Re-builds enamel
Helps prevent cavities
Cleans teeth & gums
Kills bad breath germs
Freshens breath without the burn of alcohol
Contains fluoride to help prevent cavities
I have to admit that I hate going to the dentist. I dread that visit even more than seeing my OB/Gyn! Crazy, huh? I'm hoping that with the regular use of this rinse, I'll feel more confident going into that next dental check-up.
BUY IT!
If you'd like to experience the benefits of Crest Pro-Health Complete Rinse for yourself, you can visit the Crest Pro-Health Complete Rinse website for more information. It's available now at retailers nationwide for a suggested retail price of $4.59 for a 500mL bottle, and $5.89 for a full liter. I'm almost through my one-month supply of Crest Pro-Health Complete Rinse myself, but I've seen it both at my local grocery store and CVS. I'll let you know in a future post – once the one-month test drive is over – what I think about this product.
Disclosure: I wrote this review while participating in a test drive campaign by Mom Central on behalf of Crest and received a sample to facilitate my candid review. Mom Central sent me a gift card to thank me for taking the time to participate.