My little brother just turned 16 and is always bugging my mom for money. She's afraid to give him a weekly allowance because she thinks he'll spend it all in one day, so she ends up giving him money only when he "needs" it – to go to the movies, buy new shoes, etc. He doesn't like this system because he then has to ask for cash for even the littlest of things and can't make simple purchases like buying a song from iTunes. Thanks to Mom Central, I think I've found the perfect solution for them both – the Current by Discover Card.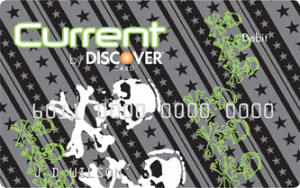 To help us balance our kids' desires with the balance in our own checking accounts, Discover Card came up with a truly innovative debit card called Current by Discover Card, designed especially for kids ages 13 to 18. As a parent, I think it's so important to instill wise spending habits and foster financial responsibility in our kids from a young age, and this card lets us do this while ultimately still holding the reins.
Like car companies that allow you to set the maximum speed limit on your teen's car, Current by Discover Card puts parents in control by letting you set (daily, weekly, monthly) spending limits, block certain merchant categories (like ATMs and liquor stores) and track your teen's spending online or through email and text message alerts. Since this is not a credit card, there's no way that teens would overspend or go into debt. In fact, the card stops working when the limit is reached without incurring any additional fees. And the card is available in a bunch of cool designs like the one above!
The Current Card has tons of other features, including:
Helpful Account Management: Parents can set spending limits, restrict merchant categories and track their teen's spending through online statements, e-mail and text message alerts. They also enjoy the convenience of free, flexible loading options.  Teens also can load their paychecks onto the card through direct deposit.
Advanced Security Features: Protected by Discover's $0 fraud liability, Current cardmembers are never responsible for unauthorized charges – online, offline, anytime, anywhere. Current cards that are lost or stolen will be temporarily suspended or deactivated, and cardmembers will be eligible for an emergency replacement.
Financial Education Resources: Teens can learn how to spend smarter by logging onto the Account Center at CurrentbyDiscover.com.  There they can view helpful articles on topics such as basic financial concepts, protecting yourself from identify theft, starting a savings program, and making your money go further.
Rewards: Teens are eligible for members-only in-store coupons and online discounts when they use their card at select restaurants, movie theaters and teen-friendly merchants.  In addition, parents earn a Discover Cashback Bonus or Miles when they load their teen's Current Card using their Discover Card.
Low fees: Cardmembers pay a $5 monthly charge per card, or save $10 by paying an annual fee of $50, which includes four free ATM withdrawals per card per month (which in itself is worth the $5 fee!).
In addition, Current by Discover Card also is sponsoring a financial literacy program across high schools nationwide through its Money Smarts Program, designed to help educate high school juniors and seniors on basic money management skills. The Money Smarts Program covers the basic concepts of financial literacy and correlates with national academic standards set fourth by the National Endowment for Financial Education. Parents want their kids to be financially independent but don't necessarily have the skills to teach them, so hopefully this program, and well as the CurrentbyDiscover.com website will help.
I love that this card teaches teens to be independent, while still giving parents the opportunity to keep an eye on their spending. I'm sure kids would gladly give up $5 of their allowance a month to be able to have the freedom to access their money whenever and wherever they want to.