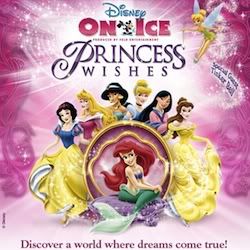 A month from now we'll be at Walt Disney World! We started the 30-day countdown in a BIG way. We went to a performance of Disney On Ice…
Enter a world of wishes with your favorite Disney princesses in Disney On Ice presents Princess Wishes! Tinker Bell represents the magic of Disney as she whisks you through a collection of enchanting and beloved Disney stories. Join Ariel as she yearns to explore the world above the waves. See Snow White find her one true love. Discover a whole new world with Jasmine. Watch in wonder as the dreams of Cinderella, Belle, Aurora and Mulan all come true and make your princess's wish become her happily ever after.
Produced by Feld Entertainment, Disney On Ice presents Princess Wishes features a wonderful display of special effects, a simple but beautiful set design, artistic skating, and even acrobatics! We saw all our favorite princesses – Ariel, Cinderella, Belle, Snow White, Sleeping Beauty, Jasmine and Mulan – and the adorable Tinker Bell spread her pixie dust all across the ice.

Maura loved Ariel's story, but I personally have a thing for Jasmine and Aladdin and sang all the words to "A Whole New World," much to my daughters' dismay. The genie had some cool moves…

Don't let the name "Princess Wishes" keep you from bringing the boys to this show! The special effects and acrobatics are entertaining at any age! These sailors in Ariel's story were awesome!

According to Maya, they saved the best for last, though, with Cinderella making an appearance late in the second half.

My only complaint would be that intermission is a little long. 15 minutes, I think. We didn't end up leaving the arena until a quarter past 9. On a school night. It was such a special evening, though, and totally worth keeping the girls up late for!
Starting one hour before each performance, families are treated to the Disney Princess Pre-Show, an exclusive fairy tale collection of gowns and treasures from the Disney Princess stories. This bonus experience is free with ticket purchase and includes a special appearance by a live Disney Princess. Belle and Snow White are beautiful and oh-so-nice!
The girls came home with pretty light-up tiaras… every time they put them on they'll remember the wonderful Princesses they met that night!

Disney On Ice will be at the Verizon Center in Washington D.C. throughout Presidents' Day Weekend, before moving on to the next city. Just as in the past, I have a special discount for you! The enchantment starts at $11 for select weekday performances with code MOM…or save $4 on weekends and holidays also with code MOM!
Tickets range in price from $15 – $75 and can be purchased at all Ticketmaster outlets via charge, by phone at 202-397-SEAT or 703-573-SEAT in Virginia, via www.ticketmaster.com/mom, and the Verizon Center box office. For my national readers, to check and see if Disney On Ice is coming to a city near you, please visit www.disneyonice.com, or visit the brand on Facebook and YouTube.
Disclosure: In return for sharing this information with my community, Feld Entertainment provided my family with complimentary tickets for opening night in DC, a program, and tiaras! 😉