Give my 5-year old the option to drink water or a cup of watered-down apple juice, and she'll always choose the latter. Hence the reason I water the juice down. She says that water is boring and doesn't taste like anything. But that's normal, right? So that poses the question – how to get kids to drink more water?
A little New York-based company called Let Water Be Water, LLC, is seeking a solution to this dilemma. They've developed the first 100% sugar-free, functional beverage brand designed especially for kids – WAT-AAH!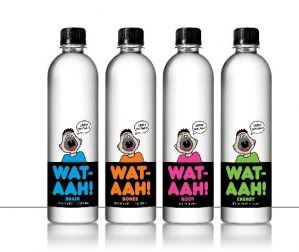 Don't get me wrong… this is water, plain and simple. Water with attitude.
There are four varieties:
BRAIN with kid-friendly electrolytes to encourage faster absorption, hydration, and cooling down
BONES with bone-building magnesium
BODY is the foundation for the brand; pure spring water with absolutely no sugar, sodium, or chemicals
ENERGY with oxygen for increased metabolic function and energy
WAT-AAH's mission is to reverse the established behavior and dependency on sweetened drinks among American kids, thus reducing the alarmingly high rates of childhood obesity that we're currently facing. For the past 6 months, families from all over the country have participated in "The WAT-AAH! Challenge." Mothers and school teachers across the United States received WAT-AAH beverage samples with instructions to put the bottled functional water in their refrigerators, alongside sodas and other sugary drinks. 9 out of 10 kids (1,337) have chosen WAT-AAH over sugary sodas and juices. Results were posted via video clips and photographs on https://wat-aahchallenge.blogspot.com.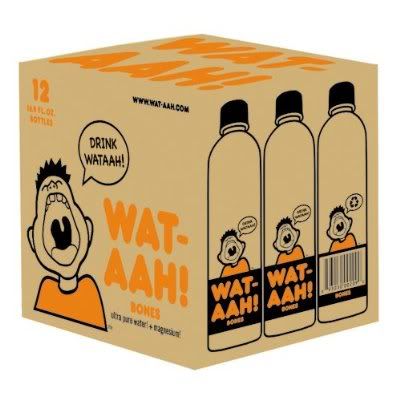 You can add my daughters to that group. My girls each fought over the pink one chose a bottle and gulped it down in minutes. The bottle has a nice shape to it, and being thinner than a typical water bottle, fits perfectly into little hands. They said the water tasted good, and loved the cartoon on the bottle. I tried the ENERGY and found it to taste pure and clean, with no aftertaste whatsoever.
We don't buy bottled water often, but I'll definitely keep WAT-AAH in mind for future playdates and birthday parties. How impressed would the parents be if instead of juice boxes I pull out a case of WAT-AAH and their kids actually like it?
WAT-AAH is sold at more than 250 stores across the nation, including Whole Foods Market. You can also have it conveniently shipped to your house by buying a case on Amazon.com.
Other than a product sample, no compensation was received for this post.