As far as nutritional goals go, I think we're well on our way to a happy and healthy 2011. The key is to make specific, attainable changes. These are a few of the behaviors my family is tackling this year:
We're eating more vegetables.
I know 'hiding' veggies seems to be the in thing these days, but I try to avoid it. I don't like the idea of tricking my kids into eating something that they may like if I just offer it to them a few times. I do have a 'two bite' rule, though. The girls must eat two bites of everything on their plates. And they do. Sometimes I get a few groans in return, but other times they'll eat every last bit of broccoli/green beans/peas/(insert any other green vegetable here), going way beyond the first two bites.
We're eating more fruit.
In the summer, eating fruit is a no-brainer. Apples, bananas, watermelon, cantaloupe, and other delicious produce is always within reach on our kitchen counter. In the winter, it's a little harder to get my family to eat fruit. We tend to reach for heavier, comforting food like cookies and bread. For this reason, when I find good fruit at the market, I stock up. We'll eat some of it fresh, and the rest I'll chop up and freeze. This frozen fruit can be added to oatmeal, mixed with yogurt, or blended into a smoothie. I save over-ripe bananas in the freezer, unpeeled, to use for banana bread.
We're drinking more water.
Maya, my 6-year-old, takes a bottle of water to school everyday. A reusable bottle that she can refill as needed from the water fountain near her classroom. I also insist that the girls drink a glass of water for every non-water beverage they consume. It was hard at first, but it's become a habit now, and keeps the girls from asking for that second cup of juice.
We eat at least one meal together every single day.
At the table, with no television or other interruptions. For a while, my husband would eat while watching the football game, for example, or I'd grab my iPad and check email while eating. Not any more! Now we seem to focus more on our food, while enjoying listening to the girls tell us about their day. This isn't a nutritional goal per se, but it has made a big difference in our evening routine.
I still believe the most important meal of the day is breakfast, though. It also happens to be the most rushed, so I generally always prepare something fast and easy, and leave the big, fancy breakfasts for Saturday and Sunday mornings. Oatmeal is #1 on my list because a) my girls love it, b) it's fast and simple to make, and most importantly, c) because it's healthy! A good source of both soluble and insoluble fiber, protein, and tons of nutrients, it's a great way for my daughters to start their day.
I have a little confession to make, however. I don't like oatmeal. I never have. Something about the consistency of it reminds me of baby food. Or maybe it's the hours I spent volunteering at a nursing home, feeding the residents oatmeal for breakfast day after day.
Anywho. I decided to try McDonald's new Fruit & Maple Oatmeal anyway. For y'all.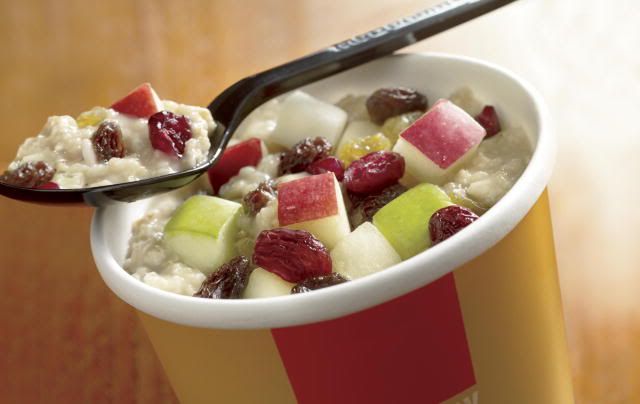 My first impression? It looks just like the advertised photo! Can't say that about fast food very often. Now, to take the first bite…
YUM!
The crunchiness of the red and green apples, tartness of the dried cranberries, and sweetness of the California/golden raisins added the perfect amount of flavor and texture to the oatmeal, which was good on its own. And you have OPTIONS! Get it with or without brown sugar, with or without cream. What? You don't like raisins? Or maybe cranberries aren't your thing? Just ask, and they'll leave 'em out, or you can request them on the side. No problem! I got mine without the brown sugar, and found it to be just right. At $1.99, it was a satisfying and affordable breakfast. BUT, unlike other McD's breakfast offerings, you can order this anytime of day!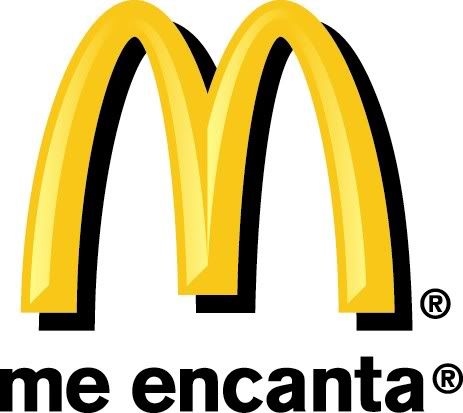 My husband usually picks up breakfast from McD's once a week (to give me a little break) and the Fruit & Maple Oatmeal will definitely be ordered time and time again. My girls loved it! And me? I'd totally have this again. Really, I would. It was delicious and satisfying (and only 290 calories!!) This might just be the start of a love affair with oatmeal. You never know! For more information about McDonald's new Fruit & Maple Oatmeal, please visit the McDonald's website. Have you tried McDonald's new oatmeal? What did you think?
What are your nutritional goals for the new year?
Disclosure: This post was written as part of a compensated campaign on behalf of Latina Bloggers Connect and McDonald's, but all opinions are my own.