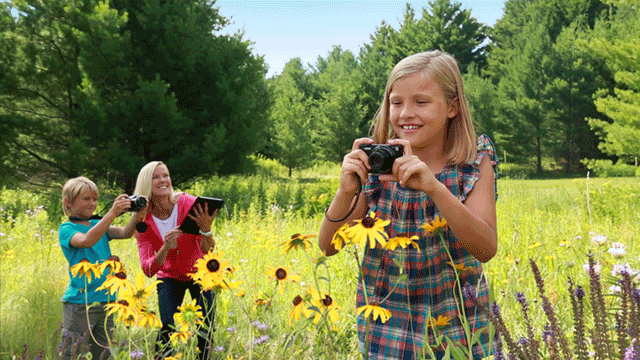 The reviewer has been compensated in the form of a Best Buy Gift Card
and/or received the product/service at a reduced price or for free.
I love traveling with my family, but my girls tend to get restless after an hour or two on the road. We've done all the typical road trip games like finding license plates, Slug Bug, I Spy, 20 Questions… I need some new ideas! Lucky for me, Best Buy has a great Family Travel Tips site full of awesome suggestions on how to use technology to enhance your next road trip or getaway. After reading through all the tips, my favorite idea is the photo scavenger hunt.
This works like a tradition scavenger hunt for the most part, but instead of collecting items, you'll have your family take photos. Setting one up does take a little planning in advance, but it's easy! Just make a list of at least 10 items to 'hunt' for, print out copies of the list for each person in the family, and give everyone a point and shoot camera. If you need to buy a camera, Best Buy has a great selection, with many under $100! This got me to thinking about all the different possibilities… wouldn't a theme be fun for the photo scavenger hunt? I came up with these ideas:
Alphabet – find an item that begins with each letter of the alphabet.
Colors – capture something red, orange, yellow, green, blue, aqua, purple, white, gold, and silver, or any combination of colors.
Food – take photos of a dessert, fruit, hamburger, pasta, pizza, potato, salad, sandwich, soup, and a favorite snack.
Landmarks – if you're exploring a particular city, make a list of places to see. A scavenger hunt and an itinerary all in one!
Nature – find an acorn, butterfly, flower, moss, pine cone, pond, rock, squirrel, tree, and a vine.
Places – find a church, fire station, hotel, lake, monument, playground, restaurant, school, toy store, and a train station.
Situations – capture someone catching a bus, delivering mail, hugging a stranger, jumping mid-air, making a phone call, pumping gas, reading a book, scooping ice cream, shaking hands, and taking a photo.
Selfies – take a photo of yourself in the back seat of a car, in a boat, with a cow, while eating, with a dog, in an elevator, with a mannequin, in a restroom, wearing glasses, and one shot with the whole family. While these may not make for the best memories, you'll get some funny shots and perfect your selfie technique!
Now doesn't that sound fun?! Maybe the person that checks the most items off their list can win a prize? Perhaps they can choose where you'll eat at next, or you can get them something bigger, like a Best Buy gift card! Regardless, everyone wins because this activity is sure to bring lots of laughter, create wonderful memories, and help everyone in the family learn to work as a team. Extra points for verified Bigfoot photos. 😉
Visit the Family Travel Tips site to see more of Best Buy's ideas that are sure to make your next trip easier and more fun!