I've been a fan of Five for Fighting since I first heard 'Superman' back in 2000. While it was written and released well before 9/11, "Superman" became a sort of anthem of healing for the nation, and has endeared singer/songwriter John Ondrasik to the survivors and families of those lost in that tragedy, as well as to servicemen serving around the world.
In his new album, Slice, Ondrasik takes stories of friends, family and even American servicemen, and sets them to music. You can sense the passion he puts into each one of his songs.
As John Ondrasik said:
"To me, records are about offering my worldview while providing sentiments to which people may attach themselves or escape into. Slice is where I've come from, where I am, and a few scraps I've picked up in between. All in a slice of time."
Tracklisting
Slice – The title track, featuring Ondrasik's soaring falsetto, comes from a daydream that we've all had at some point in our lives—that moment when we long for a simpler time when life seemed better and the songs were bigger. It's a sly play on one of those grand songs, Don McClean's "American Pie": "There was a time a long, long time ago/Chevies and levies played on the radio/No cell phones just 20,000 lights, swaying on a Saturday night."
Note To The Unknown Soldier – "I never knew you, but I know you're the best man I know…" Enough said.
Tuesday – The events of 9/11 are at the core of this song, on which Ondrasik sings: "The thing about memories/They're sure and bound to fade/Except for the stolen souls/Left upon her blade". It's a plea for us to not forget the lessons we learned that day.
Chances – The first single released, and one of my favorites. Chances are you've heard this already! 😉 This is a sweeping, grand pop song with a simple message: "Until you crash what have you done/Is there a better bet than love."
This Dance – A classic love song… "While it's just me and you, I thought I might say to you, you put the beautiful in life."
Above The Timberline – Ondrasik's falsetto really shines here. This song is so positive and happy! "Love shines bright above the timberline…"
Transfer – More of a rock vibe to this one.
Hope – Another favorite of mine. It puts a smile on your face… "You gotta have hope, you gotta have something!
Story Of Your Life – John honors his wife of 12 years with this song.
Love Can't Change The Weather – Has an R&B feel to it.
Augie Nieto – About fitness pioneer Augie Nieto, one of Ondrasik's personal heroes.
This is definitely an album worth adding to your playlist. It's available now.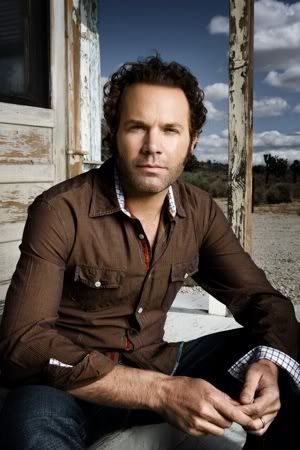 Did you know…
In Feb 2007 John launched a charity driven website – whatkindofworlddoyouwant.com that raises money for various charities when users view video clips provided by visitors to the site. Current views are over 3 million with approx. $300,000 donated!
John is a dedicated supporter of US Troops, performing for US Forces at Guantanamo Bay, Hawaii, Guam & Japan on USO tours
John created & produced "For the Troops", a CD compilation of superstar recordings that is available for free to every active service person in US Armed Forces
Along with numerous television licenses, John's composed songs for "August Rush", "The Sisterhood Of The Traveling Pants", "We Were Soldiers", "Chicken Little" & "Everyone's Hero"
John loves sports and writing (and not just great songs)! He penned a regular hockey column for SportsIllustrated.com from 2005-2007, and freelances for various publications.
Tour Dates
John will be hitting the road in October with An Acoustic Evening with Five For Fighting. The songs are great on record, even better live! Definitely a show worth seeing! To find out about how to get tickets in a market near you, go to his site.
18-Oct: Toronto, ON  ——–  El Mocambo
20-Oct: New York, NY ——–City Winery
22-Oct: Bay Shore, NY ——–YMCA Boulton Center
23-Oct: Uncasville, CT ——–The Wolf Den
24-Oct: Washington, DC —– Jammin Java
26-Oct: Boston, MA     ——– The Paradise
27-Oct: Philadelphia, PA —– World Café Live (downstairs)
29-Oct: Nashville, TN ——– The Belcourt
30-Oct: Chicago, IL     ——– Lakeshore
3-Nov: Salt Lake City, UT—- The State Room
5-Nov: Seattle, WA      ——– Crocodile
6-Nov: Portland, OR   ——– Aladdin Theater
10-Nov: San Francisco, CA — Swedish American Hall
11-Nov: Los Angeles, CA —– Largo at the Coronet
Ways to connect with Five For Fighting:
FiveForFighting.com ~ Facebook ~ YouTube ~ Twitter: @johnondrasik
Written for One2One Network, who supplied the product for review. Other than a complimentary album download, no compensation was received for this post.