One of my favorite cereals when I was a little was Lucky Charms. Now, more than 20 years later, I still love it. There's a reason it's still around – it's magically delicious, remember?! I guess you can call it one of my not-so-guilty pleasures! The great thing is that these days I have someone to share it with – my daughters. And just like me, they eat all the marshmallows first.
My girls could eat cold cereal for breakfast, lunch, and dinner if I let them. It's a breakfast staple because serving up a bowl of cereal with milk first thing in the morning is just so easy! Convenience is not the only factor, though – did you know that cereal is one of the most nutritious breakfast options a kid can eat?
Most cereals have only about 100-130 calories per serving and provide at least 10 key nutrients, including fiber, folic acid, iron, and zinc. That's more than you can say about many other non-cereal breakfast options. Only Big G cereals, including Kix, Lucky Charms, Trix, Cinnamon Toast Crunch, and more, guarantee at least 8 grams of whole grain per serving in every box. 48 grams are recommended daily, and considering 9 out of 10 kids are not getting the daily recommended amount of whole grain, starting their day with a bowl of cereal seems like a no-brainer! In fact, ready-to-eat cereal is the number one source of whole grain in American diets!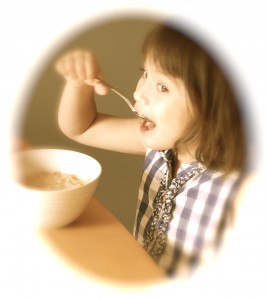 Sometimes parents are afraid to give their kids just any cereal, because some are loaded with sugar. The Big G cereals all have 12 grams or less of sugar per serving. They are a good source of both calcium and vitamin D, two key nutrients for bone growth that 75% of kids don't get enough of.
I just looked in my cabinet, and we have Cheerios, two varieties of Fiber One, and of course, Lucky Charms, all with the Big G printed on the box. When Maya asks me if the cereal she eats makes her grow big and strong, I can say "Yes!" with confidence.
Visit www.growupstrong.com for more information on these and other General Mills Big G cereals. While you're there, check out all the fun recipes – why limit your kids to a bowl of cereal and milk? You can also print a coupon to save on any Big G kid cereal.
What cereal does your family like?