This Swiss-made magnetic construction system is one of the coolest products I've seen in a long time. Maya and Maura were immediately attracted to their booth (no pun intended) at the Time to Play Holiday Showcase.
Geomag Kids, distributed by Reeves International, is a construction toy system made up of magnetic rods and non-magnetic steel spheres. Kids can use their hands to put the pieces together, creating a number of shapes and geometric figures. These sets definitely stimulate creativity and experimentation. So simple, yet incredibly entertaining and fun!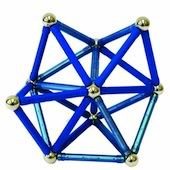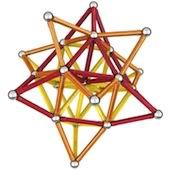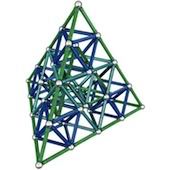 Sets vary in price depending on how many pieces are in the box – from 22 pieces for around $13, to the biggest set of 216 pieces for $85. There are sets with panels that can be used to form more sturdy structures, but I found these to be a little advanced for my two. The girls had fun with just the rods and spheres alone! Geomag Kids is for kids ages 3 and up because of the small parts.
That doesn't mean baby can't join in the fun! Gbaby is Geomag's infant line of stackers and ergonomically shaped toys. For babies 10 months and up, these colorful toys help little ones develop their motor and sensory skills. Kids can easily stack the pieces, experimenting with the push and pull of the magnets. Rattling sounds and the different textures of each piece add sensory stimulation.
The Gbaby line ranges in price from $8 for the Gbaby Roly Poly characters, to $40 for the entire Baby Farm 19-piece set. The Baby Sea set is my favorite, though!
BUY IT
Geomag Kid and Gbaby products are available online at Reeves International and Amazon.com, and in store at small, independent toy stores across the country.