The following is Halloween-themed information that I've found in my inbox this week.
TIPS FOR A HEALTHY TRICK OR TREAT
Nutritionist and registered dietician Mary Gocke from the Center for Health and Healing in New York warns against feeding kids too much candy as over-consumption of sugar can lead to decreased immune function, mood swings, anxiety, depression and fatigue. Mary suggests the following tips for parents to make sure their kids enjoy Halloween without suffering from the effects of too much sugar:
Have a big dinner – make sure your kids have a healthy dinner before going out trick or treating, being full means they'll be less likely to gorge on candy later that night
Nuts and cheese – keep tasty treats such as almonds and string cheese handy while trick or treating and make sure your kids snack on these low-glycemic foods throughout the night, it'll help lower their blood sugar.
Drink water – water not only helps wash away the sugar from the teeth, helping kids avoid cavities, but it also helps combat blood sugar levels
Avoid sticky candies – these sweets linger longer on your teeth and increases the risk for cavities.
Try these instead – plain chocolate bars (especially if they contain at least 65% cocoa), Sweet Tarts, Smarties and Pixy Sticks are better for your teeth.
CRAFTS

FamilyFun magazine has long been a go-to source for fun, inexpensive and simple crafts for kids.  With the recent introduction of FamilyFun craft kits, it's even easier to take activities from the magazine's pages straight to kids' hands. Available at select Wal-Mart stores nationwide, the new line of 9 $5.00 Halloween-themed kits contain everything kids need to craft by themselves. Kits include: Creepy Creatures, Pumpkin Pals, Masks, Tattoos, Treat Bags, Halloween Stepping Stone, Tie-Dye, Balloons, and Spooktacular Puppets.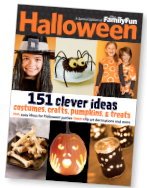 Also, if you're short on inspiration when it comes to costumes, food, or party plans, the special FamilyFun Halloween issue is your go-to-guide for celebrating in style.  It's packed with easy ideas for Halloween parties, clip art decorations and lots more. It too late to get yours by mail, but you also have the option of purchasing the digital edition of FamilyFun Halloween INSTANTLY.
MOBILE APPS
Angry Birds Halloween – rhe Halloween-themed version of the popular games features 45 levels of pig and pumpkin-smashing action!
Ghosted – gives people a way to add realistic looking ghost images to their photos. Over 50 spirit and ghost images to choose from. Scarfaced is also available.
Halloween Soundbox – a free app that features 16 spooky sounds to scare your friends!
Singing Pumpkins – cute app that lets you lead a group of pumpkins in singing some Halloween tunes.
These next two apps provide educational value to children in the form of fun, interactive experiences for play and learning. Your little witches and goblins will be learning to read while being entertained this Halloween season!
The Legend of Spookley the Square Pumpkin – a very unique pumpkin delivers a special message of tolerance and self-acceptance that's just right for Halloween…and every day of the year.
What Was I Scared Of? – the Dr. Seuss classic short-story is now available as an eBook for your iPad, iPhone and iPod Touch. Perfect for Halloween or any time of year, this story delivers a timeless message about fear and tolerance.
ON TV THIS WEEKEND
PBS KIDS
Looking for fun and festive Halloween shows for the kids? Check local listings for air dates and times… PBS KIDS' lineup of Halloween-themed episodes includes:
CURIOUS GEORGE – "Creatures of the Night"
DINOSAUR TRAIN –"Night Train"
MARTHA SPEAKS – "Scaredy Cat"
SUPER WHY! – "The Ghost Who Was Afraid of Halloween"
SID THE SCIENCE KID – "My Mushy Banana"
WORDWORLD – "A Kooky Spooky Halloween / Sheep's Halloween Costume"
CLIFFORD THE BIG RED DOG – "Boo"
BARNEY & FRIENDS™ – "Guess Who? / Sweet Treats"
CAILLOU – "After Dark!"
ARTHUR – "Falafelosophy / Tales of Grotesquely Grim Bunny"
FETCH! WITH RUFF RUFFMAN – "Ruffman Manor is Haunted!"
WORDGIRL –"Tobey's Tricks and Treats"
CYBERCHASE – "The Halloween Howl"
The Hub
The Hub, which rebranded from Discovery Kids earlier this month, is bringing viewers a Haunted Hub weekend with a special holiday lineup of "spooktacular" programming the whole family can enjoy. The three-day Halloween weekend of scary fare includes a special two-part sneak preview of the upcoming Hub Original Series "R.L. Stine's The Haunting: The Series" from the best-selling author and master of scary tales. Visit www.hubworld.com for a complete schedule of Halloween programming on The Hub. These are some highlights:
"R.L. Stine's The Haunting Hour: The Series": Encore presentations: Saturday, October 30, 8 p.m. and 11 p.m. ET; Sunday, October 31, 5 p.m. and 10 p.m. ET
"The Haunted Pumpkin of Sleepy Hollow": Encore presentations: Friday, October 29, midnight ET; Saturday, October 30, 9 a.m. ET and Sunday, October 31, 11 a.m. ET
"Truth or Scare" Halloween Marathon: Saturday, October 30, 12 p.m. – 5 p.m. ET; and Sunday, October 31, 12 p.m. to 3 p.m. ET
"Little Monsters": Saturday, October 30, 9 p.m. ET; encore presentation Sunday, October 31, 3 p.m. and 8 p.m. ET
"Fraggle Rock": Sunday, October 31, 9:30 a.m. ET
"Grossology": Sunday, October 31, 5 a.m. ET
"Growing Up Creepie": Sunday, October 31, 4:30 a.m. ET
"Honey I Shrunk the Kids: The TV Show": Saturday, October 29, 5 p.m., 6 p.m. and 7 p.m. ET and Sunday, October 31, 6 p.m. ET
"Time Warp Trio": Sunday, October 31, 4 a.m. ET
"Where on Earth is Carmen Sandiego?": Sunday, October 31, 9 a.m. ET
ONLINE FUN
Fantage
Fantage, the virtual playground made just for kids, is throwing a Halloween party this week where kids can buy and show off their costumes, go on a ghost hunt, and play trivia games for prizes. First in the series of special events is trick-or-treating, in which users can visit shops and seek out jack-o-lanterns to play Halloween Q&A. Fantage fans can also enjoy the Ghost Hunt, which will also have more prizes in store for users who "haunt" ghosts successfully and bring them back to The Castle. In addition, users can enter a magical pumpkin for the Costume Battle, in which stars are awarded for choosing the most popular Halloween costume. As a bonus, Fantage users who bring their pet with them in the magical pumpkin will receive even more stars. New Halloween-themed backgrounds with spider webs, pumpkins and ghosts will also become available for users to continue enjoying Fantage fun.
Kizoa
With Kizoa.com, you can turn your family into the creatures you believe them to be (year round) for free. Just upload your family pictures, turn their faces into hideous monsters, and then create a slideshow of nightmarish family portraits. Check out this Kizoa.com "Monster-Maker" example: https://www.kizoa.com/slideshow/d1208494kP120790366o1/darren-paul-monster
PROMOTIONS
Enjoy $1 shipping from LeapFrog through 10/31. Use promo code: TREAT
77kids is offering free shipping through Sunday as well.
Treat yourself to 100 free prints from Snapfish with the purchase of two 8x10s. Use promo code: SCARYPRINTS. Ends 11/2.
Joy Berry Books has launched a new product focused on keeping kids safe (and happy!) during Halloween. The Taking the Scary Out of Halloween Kit is being sold exclusively at Barnes and Noble. It Includes:
• The Taking the Scary Out of Halloween Book
• 10 Safety Guidelines for Halloween
• "Make and do" activities for costumes and makeup
• Simple Halloween night recipes
• Glow-in-the-dark stickers
• Glow whistle
• Glow necklace and bracelet
• Flashlight with interchangeable Halloween-themed lenses
SNACKS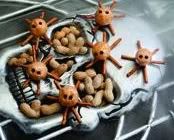 This Halloween, the National Peanut Board has cooked up some tasty alternatives to standard sugar-loaded treats with five fun new recipes just for the occasion:
Peanut Butter Ball Spiders – Peanut butter, wheat pretzels, chocolate chips
Witch Faces – Peanut butter, frozen waffles, raisins, fruit leather
Zombie Fingers – Chicken breast cutlets dusted in peanut flour and pan fried
Mummy Milk – Milk blended with peanut butter and chocolate syrup with whipped cream
Peanut Candy Corn Trail Mix – Toasted pumpkin seeds, dried fruit, roasted peanuts and candy corn
USA-grown peanuts and peanut butter are smart options because they're packed with protein, nutrient rich and full of antioxidants.  Not only do kids love the taste, they'll also enjoy helping mom and dad make the recipes.
HAPPY HALLOWEEN!