My first-grader is an voracious reader. On a recent Sunday afternoon, she sat down to read to me two delightful books by Gene and Iris Rotberg.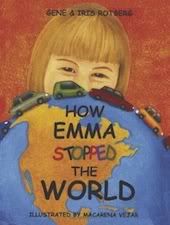 How Emma Stopped the World, illustrated by Macarena Vejar, is the story of a little girl named Emma who realizes that she has misplaced her beloved blanket while out on a drive with her grandmother, Iris. Iris stops the car and blocks traffic which causes a traffic jam that ties up their city and, ultimately, the entire country. Iris and Emma search with great determination for the blanket. It's a charming and relatable tale of a grandmother's devotion to her granddaughter and a child's perspective of the world and what's important to her in it. My daughter and I both liked this simple storyline. There are no twists, surprises, or witty rhyme schemes. Just a happy ending which we both expected.
Tess and the Dog Star engages the reader immediately through lovely and playful pictures by illustrator Bryn Barnard. This is the story of Tess who decides to have a contest for the best-dressed dog. She asks her friends for pictures of their favorite dogs all dressed up. Now the fun starts…each page that follows includes more adorable pictures of dogs in costumes with silly things to say. The Pekingese who likes to play peek-a-boo, the Saint Bernard from Switzerland sporting shoes and goggles, and a Lhasa Apso from Tibet in a "downward dog" yoga pose. The whimsical pictures kept my daughter's attention and even sparked a nice teachable moment/astronomy conversation about the winner, Sirius, the Dog Star and the brightest star in the sky in the constellation Canis Major. Dog-lovers will especially enjoy this story which comes alive through the wonderful illustrations of an imaginative illustrator who clearly knows both kids and dogs well.
I was provided with review copies of the books described above; opinions are my own.