Like most people, I typically think of health insurance as the service that pays the bills when we go to the doctor. Nothing more. My expectations aren't high. However, after learning about what one company is doing to change the relationship between insurers and consumers, the gears in my head are turning, and I'm seriously considering switching health insurance providers! Our relationship with insurers really should go beyond just co-pays, right? The health insurance industry is finally starting to recognize this… specifically, WellPoint and its affiliated health plans.
While you may not be familiar with the name of the company, WellPoint is one of the largest health benefits companies in the nation, with affiliated health plans in 14 states that fall under the names Anthem BlueCross and BlueShield, Anthem BlueCross in California, Empire BlueCross BlueShield in New York and BlueCross BlueShield of Georgia. Now those names you likely recognize.
Most of the healthcare decisions in the household are made by women, and WellPoint wants to help us keep ourselves and our families healthy around the clock with services that go beyond what we traditionally think of receiving from a health insurer.
The service that stuck out to me the most is probably the 24/7 NurseLine which provides access to a registered nurse over the phone anytime, anywhere for assistance or just to listen to a reassuring voice. After all, often your doctor isn't available after hours, and Dr. Google isn't exactly reliable! The nurse helps members understand their symptoms, and increases understanding of medical condition or prescribed course of treatment. This service provides accurate info and 1-on-1 counseling with experienced registered nurses any time of the day or night through a toll-free number. A team of knowledgeable and caring nurses is there to help you determine whether you should see the doctor, go to the ER or visit an urgent care center. They're also prepared to answer questions about best practices when it comes to things like immunizations and various public-health issues. Questions to the NurseLine are 22% pediatric related. Not surprising!
For example, you may want to call the NurseLine when:
• Your child has fallen and has lost a tooth. What do you do?
• Your child gets a pea stuck up his nose. Should you remove it yourself, go to your family physician, ER or critical care unit?
• Someone in your child's classroom has contracted lice. What are the immediate measures and next steps you should take to ensure they stay healthy?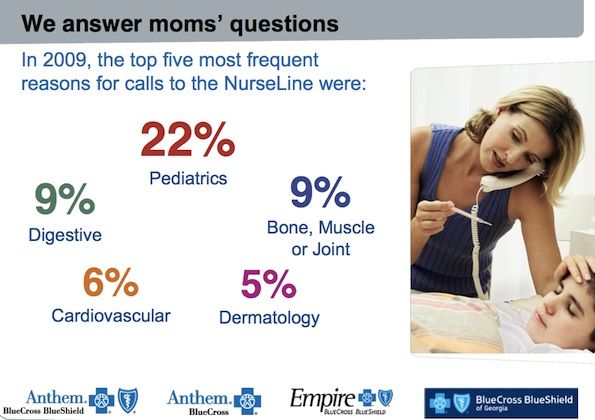 WellPoint also wants to help moms before they're moms. The Future Moms program supports expectant moms, helping them achieve healthier pregnancies and healthier deliveries, which can lead to healthier babies. Women get a toll-free number for a nurse coach, a "Your Pregnancy Week by Week" book, tools to track the pregnancy and spot possible risks, a Maternity Care Diary, nutritional counseling, lactation support, and more. But it doesn't end when the baby is born. There's a post-delivery follow up including a postnatal depression screening. So great! Where was this service when I was pregnant?!
As a health insurer, it is WellPoint's goal to support your efforts to keep both you and your family healthy. Since fitting fitness into my lifestyle is one of my biggest struggles, WellPoint's partnership with FitOrbit is certainly appealing. With unlimited access to a real personal trainer, customized, family friendly meal plans, and a detailed, personalized fitness plan that you can do anywhere, anytime, this is a service that could help me achieve my personal fitness goals. To that end, the company is happy to offer a special discount to FitOrbit, which can be accessed through this link: https://www.fitorbit.com/ib/MOMSAVES25.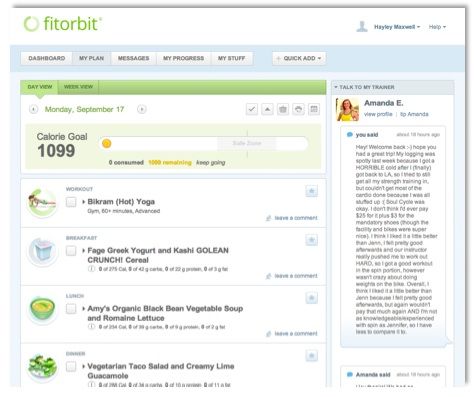 From what I've seen while researching health insurance, WellPoint's affiliated health plans are definitely leading the way in providing a personalized member experience. Like never before, plans are tailored to meet our needs with unique and valuable programs, tools and services that revolve around our schedule, no one else's. The company recognizes that we need help keeping both ourselves and your family healthy and out of the doctor's office in the first place!
Disclosure: Anthem Blue Cross Blue Shield and The Motherhood have compensated me for my engagement in this conversation, but all opinions are my own.