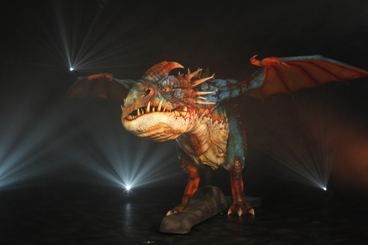 Already a smash hit in Australia and New Zealand, this summer audiences across North America will also get to experience the magic of fire-breathing dragons that soar through arena skies in HOW TO TRAIN YOUR DRAGON LIVE SPECTACULAR. Produced by RZO Dragon Productions, the tour promises to deliver 23 dragons, some with wingspans of up to 46 feet, Viking warriors and world-class circus artists and acrobats, performing against a state-of-the-art, wall-to-floor immersive projection measuring more than 20,000 square feet.
The show kicked off at the end of June in Pennsylvania, and is making it's way across the country, stopping in Chicago, Philly, Cleveland, Detroit, Seattle, Sacramento, and more cities in the US and Canada. Visit dreamworksdragonslive.com/tickets for a full tour schedule and to buy tickets. My family and I are going to see the show later this month in Washington, DC, and are really looking forward to it. It's likely hitting a city near you, too!
More about the show:
HOW TO TRAIN YOUR DRAGON LIVE SPECTACULAR was created by DreamWorks Animation, producers of the Academy Award®-nominated film, How to Train Your Dragon, and Global Creatures, the masterminds behind the international phenomenon "Walking with Dinosaurs," the #1 grossing world tour of 2010. HOW TO TRAIN YOUR DRAGON LIVE SPECTACULAR's worldwide tour is exclusively promoted by S2BN Entertainment and delivers some of the most ambitious theatrical technology to ever tour the arena.
The live production rolls fire-breathing action, epic adventure and heartfelt laughter into an original captivating story set in the mythical world of Vikings and wild dragons. Based on the book by Cressida Cowell, it centers on Hiccup, a Viking teenager who doesn't fit in with his tribe's longstanding tradition of heroic dragon slayers. Hiccup's world is turned upside down when he encounters a dragon that challenges him and his fellow Vikings to see the world from an entirely different point of view. The story presents a vision so grand in scale that only DreamWorks Animation and Global Creatures could bring How to Train Your Dragon to life in front of a live audience.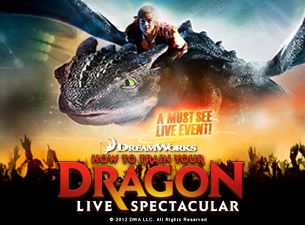 HOW TO TRAIN YOUR DRAGON LIVE SPECTACULAR breaks every rule of theatrical entertainment to fully immerse audiences into the show in ways that have not been attempted before. Barely contained within the arena, HOW TO TRAIN YOUR DRAGON LIVE SPECTACULAR utilizes the full venue, maximizing every dimension of the performance space to transport audiences into a mythical world of fire-breathing dragons who soar overhead at great speeds. The state-of-the-art animatronic technology and large-scale cinematic projections interact seamlessly with the live actors, who bring DreamWorks Animation's heart-warming story to life through theatrical storytelling, martial arts and acrobatics. It's not to be missed!

Check out this preview:

TICKETS & A SPECIAL DISCOUNT
Regular ticket prices range from a low of $29.50 to a high of $69.50 (excluding fees). A limited number of premium seats and special VIP ticket experiences (like meeting the dragons!) and family packages are also available. Visit dreamworksdragonslive.com/tickets to purchase tickets, for showtimes and more.
Get great seats for a big discount! Once you're on TicketMaster, use discount code: MOM to save 25% on weekday performances (including Friday nights). In some markets there is a dedicated box that says "mom blogs" on the TicketMaster order page, but on some there's not so you'll enter the code in the general promo code box.
Local to Washington, DC? HOW TO TRAIN YOUR DRAGON LIVE SPECTACULAR will play at the Verizon Center July 19-22. Right now Living Social has a great discount on tickets. Don't miss out!
FUN FACTS
Global Creatures & DreamWorks have partnered to bring the Academy-Award® nominated film to life with real flying, fire-breathing dragons.
The production is four years in the making.
The production has the largest number of animatronics ever to tour the globe.
23 Dragons
12 different dragon species represented
Dragon wings span up to 46ft
Each large dragon weighs over 2.6 tons (the size of a family car)
Over 2 miles of "Dragon Skin" was created
The Red Death Dragon is the largest animatronic ever built by Creature Technology Company at over 40 feet high and 60 feet wide.
Travels in over 30 18-Wheeler Trucks (52' each) with a touring cast & crew of 85.
Together the show weighs over 200,000 pounds.
It would take one person over a year to load in the production.
Takes over 160 people to set up the production in each city (the equivalent of one person working 24 hours over 70 days).
If all the cables in the production were laid out end to end, they would stretch from Los Angeles to New York City.
The production created the first-ever touring flight track system that weighs over 28 tons.
The flight track uses a proprietary barcode system. The creatures scan a barcode strip as they fly around the track which tells them (and us) where they are at all times.
Toothless weighs over 7,500 pounds and flies over 1.2 miles throughout the performance which is equivalent to a Range Rover soaring through the arena.
There are more automation cues in the opening sequence alone than a Broadway musical has in a night.
The first-ever fully immersive live experience with projection spanning more than 20,000 square feet throughout the entire arena. The back projection wall is equivalent to 9 movie screens combined.
Get a real glimpse at How To Train Your Dragon Live! From The Today Show:

Disclosure: In exchange for sharing this information with you, my family was provided with tickets to the show in Washington, DC later this month. Stay tuned for a review!