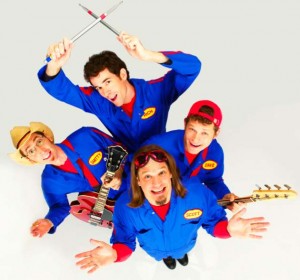 One of my 4-year old's favorite shows is "Imagination Movers" on the Disney Channel. She's been a fan of the show ever since it premiered in September of last year, and a fan of the Movers well before that.
This is one of those shows that I don't mind watching with her! "Imagination Movers" stars the popular New Orleans band of the same name. Rich Collins, Scott Durbin, Dave Poche and Scott "Smitty" Smith get us all singing, jumping, and dancing around the room with their energetic rock and roll style of music. The Movers are endearing, the music is catchy, easy to sing along to, and the story lines are entertaining and always encourage kids to use their imagination to solve problems. I guess you can call us true Gearheads (that's what they call their groupies!)
"Where is Warehouse Mouse Week" is coming up this week on Playhouse Disney. Starting on Monday at 10 a.m. ET/PT, and culminating in a never-before-aired, new episode on Saturday morning, the Movers' furry friend will be the center of attention for six days straight.
My daughters had the opportunity to preview the new episode, "Who's Afraid of the Big Bad Mouse?", and loved it as much as every other one they've seen! In the new episode, when the Movers' television is broken they call Joe, the repairman, to fix it. The only problem is that Joe is frightened of mice, so the Movers must come up with a solution to make Joe feel comfortable around Warehouse Mouse and finish the job.
You, too, have the chance to preview this episode with your kids before it premieres next Saturday, January 31st at 10 a.m. ET/PT! Just watch any Imagination Movers episode from January 26th – 30th and a secret picture will be revealed immediately following the shows. Get online, surf on over to Playhouse Disney, and click on the special picture you saw to unlock the episode.
Enjoy the show… and remember to:
Reach high! Think big! Work hard!
Have fun!
"Imagination Movers" airs weekdays at 6:30 a.m. and 10:00 a.m. ET/PT and weekends at 10:00 a.m. ET/PT on the Disney Channel. The show carries a TV-Y parental guideline.