Crayola wants every child to be creatively alive, so they're inviting parents "Inside the Crayon Box," for a special live chat with celebrities and trusted parenting experts that will inspire and spark ideas to expand your child's creative thinking. If you find yourself looking for new ways to inspire your children to express their ideas and build their creativity, you'll want to join in!
The first "Inside the Crayon Box" live chat is Wednesday, March 7 at 9 p.m. EST (tonight!) Join Crayola and musician, children's author and mom, Lisa Loeb for a 45-minute live streaming video chat on the Crayola Facebook page. Lisa, best-known for her number one hit "Stay (I Missed You)," will share personal stories, practical advice and ways she brings a little creative play into every day for her daughter. We want to hear from you – participants can ask Lisa questions during the event, too!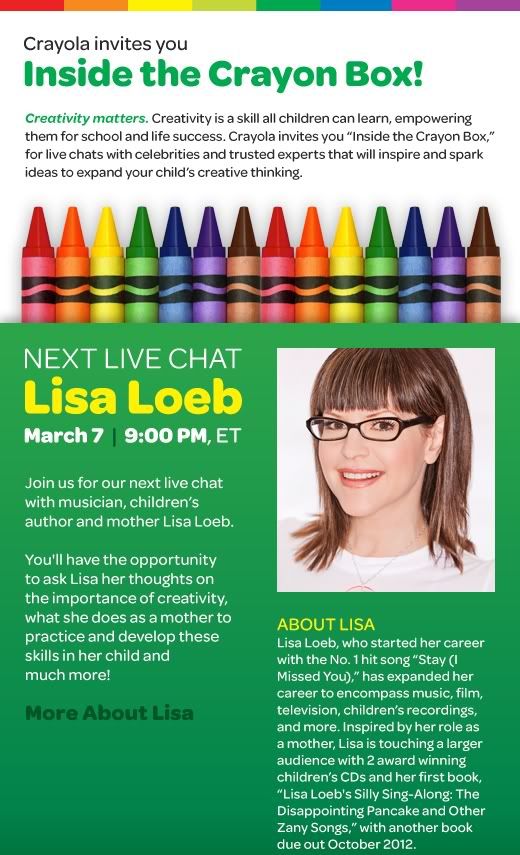 Just in case you miss the Crayola "Inside the Crayon Box" event tonight, the session will be posted on the Crayola YouTube Channel in the coming days.
Creativity Matters

To learn more about the tools from Crayola that make it easy for parents to help children develop their creativity www.Crayola.com and like Crayola on Facebook! Also, be sure to check out Lisa's book Lisa Loeb's Silly Sing-Along: The Disappointing Pancake and Other Zany Songs (Sterling Children's Books, 2011) available at Barnes & Noble and Amazon.com.
Information provided by Crayola, through MyBlogSpark.