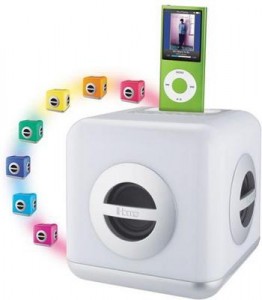 I can just imagine how many millions of iPods were sold over the holiday season! Maybe you were the lucky recipient of one, or perhaps, like me, you've had yours for a while.
After setting it up, synching it to your computer and all that fun stuff, it's time to start thinking about getting some accessories for your new iPod! A protective case is a given, but did you ever think about a speaker system? I honestly never thought I needed one until I discovered the iHome brand. iHome is a company that specifically develops and markets iPod electronics.
I just got iHome's iH15 Color-Changing Stereo System. It is powered by an AC adapter, only works with iPods, and includes inserts for the various iPod models. It does however have a line-in jack which allows you to connect it to CD, mp3, and other audio devices with no problem at all.
The 6-inch cube looks ultra-modern, yet elegant at the same time. It's small enough to be easily transported from room to another. The color-changing aspect is so fun! Because the casing itself is translucent, the entire cube glows in a variety of colors. You can select your favorite or let it cycle through them all. In a dark room, the rapidly-changing colors automatically give it a party feel. Even my daughter, who's usually afraid of the dark, looks forward to turning out the lights to let the cube really shine bright!
For those times when you just want music, the iH15 delivers. I'm actually quite impressed by the sound quality of this little thing! It has two built-in Reson8 speakers and a subwoofer. The sound is exceptional! Intense and consistent even at the highest volume.
One of my favorite features of this system is that it charges your iPod. No need to plug it in to your computer or buy a separate wall charger! It charges while it plays, or you can leave it in overnight.
Most importantly, operation of the iH15 is so easy! There are only four button controls – Power, Color, Volume+, and Volume-. All you do to get music going is press the power button. The last song you were listening to will automatically start playing. You press the Color button to cycle through the four color settings – slow color change, fixed color, fast color change, and no color. It's so simple that my 4-year old can use it. One thing I don't let her do is actually dock the iPod itself, because that part just seems a little delicate and has to be done at an angle.
You can purchase this speaker from iHome for $59.99. Considering the sound quality, charging feature and overall fun aspect of the cube, I'd say it's a great value! But if the iH15 doesn't pique your interest, drop by www.ihomeaudio.com to see just what else iHome offers. I'm not going to give anything away, but there are some really amazing and innovative gadgets, starting as low as $9.99!
A REALLY big thank you to iHome for this review opportunity!