Don't you love it when you get a really amazing deal? It's such a great feeling.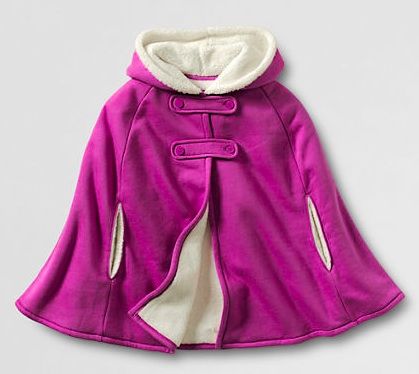 When doing some back-to-school shopping a couple of weeks ago, I bought my girls each a hooded fleece cape from Lands' End, on sale for $14.99. Plus I had a code for 25% off and free shipping. That means each cape, with a regular price of $44.50, cost me $11.25. AND THE GIRLS LOVE THEM!! I'm only bummed they don't come in my size!
Available in Purple Orchid, Navy, and Ivory, the capes are super soft and the style makes them a cinch to put on. Perfect for wearing on those cool Fall days when it isn't quite cold enough to pull out the big, bulky winter coats.
While there's no 25% off discount at Lands' End at the moment, use promo code: MAGIC and pin: 2013 to get free shipping on any order, no minimum. Happy shopping!