LG has just launched a fun contest – Lose the Ugly, #findyourbliss – where you can win a brand new LG Bliss phone and more! Entering the contest is easy. Just upload a photo or video of something you deem to be ugly to the LG Bliss Facebook page at www.Facebook.com/LGBliss between now and November 6, 2009. Think of this "Gallery of the Utterly Ugly" as a place where you can lose your ugly stuff to clear the way for more bliss!
The grand prize is the new LG Bliss phone and the secondary prize is a $50 gift card so you can buy your own bliss. There will be five grand prize winners and fifty second place winners. You must be 18 years or older to enter and only one (1) entry per Facebook account.
Some "ugly" examples:
• Trashy Trends (fabulously ugly fashion)
• Mutant machines (these mutant machines and outdated electronics belong in the junkyard)
• Ugly wonders of nature (naturally occurring wonders that make even the ugly tree look good)
• Ugly-mobiles (rides that are heading non-stop to Ugly Town)
Note: Photos of people aren't allowed and ugly behavior such as violence, indecency, or illegal activities isn't tolerated.
This is a screenshot of the LG Bliss Facebook Fan Page, where you can browse other people's ugly finds to get ideas. Check out the funny-looking cat!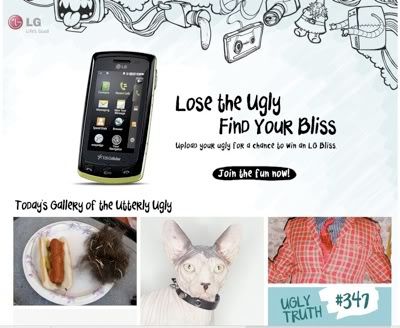 So become a fan on Facebook and participate in this contest. It sounds like a lot of fun!