Maya's been in school for a month – 4 weeks – and making her lunch everyday has quickly become a chore! I admit, sometimes I just want to get that extra few minutes of shut-eye in the morning, so I don't mind doling out the $2 for her to buy lunch. It's not always me, though! She wakes up cranky once in a while, which makes our usual routine that much more difficult. On those days, I'm lucky if I get her out the door with shoes on, never mind her lunch bag! To make things run a bit smoother in the morning, I often look for quick "on-the-go" solutions.
However, when it comes to buying prepackaged meals, I don't want to sacrifice a healthier meal for convenience! This is why I was happy to see that Lunchables Lunch Combinations have recently expanded their better-for-you lunch selections to include even more varieties that offer the same great taste and wholesome products.
One day last week, Maya took the Deep Dish Cheese Pizza to school for lunch. A complete meal in a small package, it now comes with DOLE mandarin orange slices, mini Nilla wafers, and a bottle of spring water with an optional Kool-Aid Single. I was excited to see that the pizza crust is whole grain now, too! It's the little changes that make a big difference. Maya enjoyed her lunch… and no mention of candy or juice! The only thing she missed was the microwave; she would have liked to nuke it for a few seconds "to get the cheese melty," she said. Newly available options such as the Chicken and American Sub Sandwich as well as Chicken Strips also sound appetizing.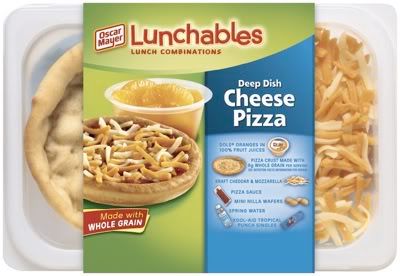 The Lunchables team is always looking for ways to make their products better. Over the last few years, they've worked hard to improve their products by reducing overall sodium content, fat and calories by at least 20% throughout their product lines, and adding spring water and fruit to various lunches. A concern of mine with Lunchables has always been the waste from the packaging. The container now has many recyclable parts, making them a more environmentally friendly option.
Maya considers Lunchables to be a real treat, so I know it's something that she'll definitely gobble up!
I wrote this review while participating in a blog tour campaign by Mom Central on behalf of Lunchables and received free product coupons for the products necessary to facilitate my review. In addition, I received a gift certificate to thank me for taking the time to participate.