I participated in a Blogger Activation on behalf of Mom Central Consulting for Stonyfield.
I received coupons to facilitate my shopping trip and a promotional item to thank me for participating.
I don't know about your kids, but the first thing my girls do when they get home from school – after shedding their backpacks and lunch boxes – is raid the fridge. Busy days don't always allow us the time we need to prepare, sit down and enjoy a nutritious snack with our little ones, however, so it's nice to have something convenient… last week I received coupons for Stonyfield's new products – YoBaby, YoToddler, and YoKid yogurt pouches – and stocked the fridge with a few different options.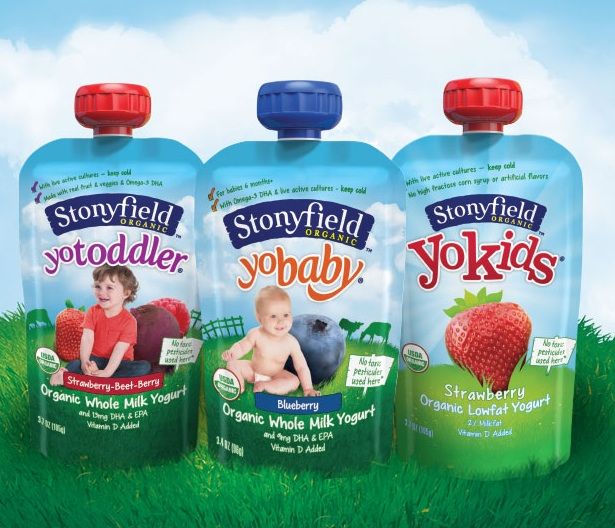 To help combat the challenge of finding healthier on-the-go options, Stonyfield developed these organic yogurt pouches packed with the nutrition growing babies and kids need. Offered in YoBaby, YoToddler and YoKids varieties, Stonyfield organic yogurt pouches are the first refrigerated organic yogurt pouch available.
The convenient re-sealable pouches come in many flavors including Strawberry Beet Raspberry, Pear Spinach Mango, Blueberry and Strawberry Banana. Maya chose the Strawberry Banana YoKid, and Maura opted for Blueberry and was happy with her choice. She loves anything blueberry. Funny enough, the word 'mora' means blueberry in Spanish. I guess it was meant to be. 😉
Maura likes that "it's blueberry. And it's fun to eat! Can you buy more?"
"I love that you don't even have to use a spoon!" Maya said. "It tastes like a smoothie."
Clearly our dog felt left out of the fun! I only wish the YoKids pouches were sold in packs; they have to be purchased individually. My grocery store had them on sale – 10/$10.
I passed on the rest of the coupons to friends with younger kids. I used to feed my girls YoBaby yogurt when they were little, so I bet these pouches would be a big hit for babies just learning to eat on their own! The flavors are so fun… Strawberry Beet Raspberry sounds delicious!
Having healthy snacks available when on-the-go or for the moment when hunger strikes can be a challenge, but all of the Stonyfield organic yogurt pouches contain pure organic ingredients and never any high fructose corn syrup or artificial flavors so you know you're making a good choice.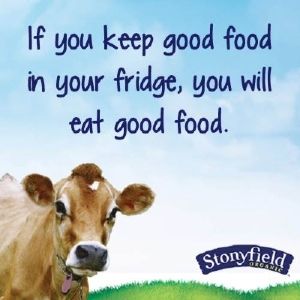 Have you tried these yet? See if the Stonyfield organic yogurt pouches are sold near you and connect with Stonyfield on social media: