When I told Maya, my 8-year-old, that we would be getting a Nintendo 3DS, she squealed, and said: "Yesssssss. AWE-SOME! A lot of the boys in my class have one!"
It's true – I don't see very many girls pulling their Nintendo 3DSs out at restaurants or in the waiting room at the doctor's office. This may be because years ago, most video games seemed to be geared towards boys. Times have changed, however, and these days there are some really great games with girls in mind – girls of any age, really. You don't have to be a gamer to enjoy them! Maybe you're an aspiring artist, or fashion designer…
The Nintendo 3DS system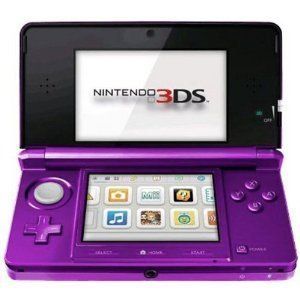 Nintendo sent us the most beautiful 3DS console… in Midnight Purple. Maya's favorite color happens to be purple, so it's absolutely perfect. The photos don't do it justice – it's a gorgeous, sparkly dark purple color! Charge it up, and you can practically start playing with it straight out of the box. The interface is so simple and easy to use. I haven't even looked at the manual yet.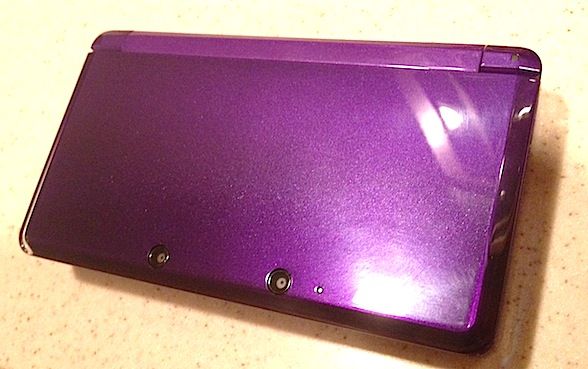 As far as actually playing with the 3DS, I didn't expect to like it as much as I do. The 3D effect is super cool! You don't need any special glasses or anything to experience the 3D graphics, but it really works! This effect definitely adds something to the games. It gives them depth. How do they do that? I wonder. It has to be seen to be believed.
You can even take 3D pictures with the two outer cameras. While the resolution isn't great, it's better than the kiddie digital camera the kids have. And it's fun experimenting with the 3D effect! For those that don't appreciate it, the 3D mode is easily controlled with a little slider on the side of the console. Personally, I like it all the way up, but my daughter likes it less intense.
The Parental Controls are also a nice touch. I can restrict 3D mode for my younger daughter's sensitive eyes, for instance, disable the Internet, and more. And it just takes me typing in a simple PIN to reactivate the settings.
It's been several weeks now, and I am beyond impressed with the 3DS. The only downside, I must say, is the battery life. But like cellphones and laptops, this can be extended by just making a few minor adjustments. If we're away from home, I generally turn off the wifi, lower the 3D level, and dim the screen, and this helps quite a bit. Honestly, though, it's no biggie. I mean, I wouldn't want my kids playing with the 3DS for hours on end anyway!
For those that have a Nintendo DS, I think upgrading would definitely be worth it. You can play almost all DS games on the 3DS, plus you get a whole new library of 3D games to choose from! And the graphics are sharp, the colors bright and beautiful. Even the sound is better than I expected. As far as portable entertainment goes, it's incredible technology.
Nintendo 3DS games – not just for boys!
We've been playing with the following games for a couple of weeks now, and love 'em!
Style Savvy: Trendsetters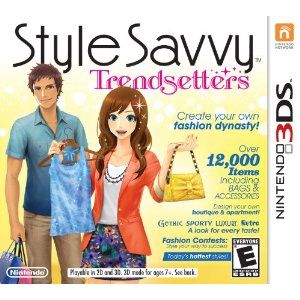 In this game, you work at and manage your own clothing boutique, trying to keep your fashion-crazy customers happy by creating new looks for them. There are more than 12,000 clothing items, bags, and accessories to collect and sell in your boutique, so this is a game that you'll come back to over and over. In fact, the more you play, the more stuff you unlock. If you or your daughter is really into fashion, you'll both love this game! A guilty pleasure for sure!
Art Academy: Lessons for Everyone!
More of an educational title, rather than a game, this is perfect for those that love to draw and paint, or have always wanted to learn how! It's my daughter's favorite! With Art Academy, players can learn a wide range of painting and drawing techniques through intensive lessons. You learn the basics about light and shadows, and go step by step, learning and mastering each skill before moving on to the next. You can save your masterpieces and display them in a gallery, or export them to your SD card. Just look at this cherry I painted in the first lesson…
I never thought I could do something like that with a little stylus! I haven't tried this yet, but you can even take your own picture and use it as a reference to paint one within Art Academy.
Now that we have a Nintendo 3DS of our own, I'm excited about all the titles we'll be able to play with and review in the future! Look out for my next post, where I'll share a few more game suggestions for that special little girl in your life (or the kid in you!) These games are lots of fun, no matter what your age may be!
BUY IT!
The Nintendo 3DS system and 3DS games are available at retailers nationwide and online at Amazon.com, Toys "R" Us, and more. For more information about this system, visit the Nintendo website.
Disclosure: I was provided with a Nintendo 3DS system and games to facilitate my review, but all opinions are my own.