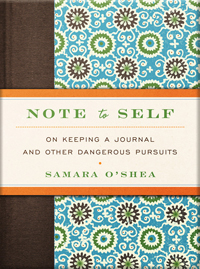 Dangerous pursuits… hmm. Doesn't that pique your curiosity? It did mine.
In Note to Self: : On Keeping a Journal and Other Dangerous Pursuits, Samara O'Shea takes on the topic of journal-writing. Judging from its title, I knew it wouldn't just be a typical how-to guide, and I was right. Through sharing her own journal entries and experiences, Samara presents the reader with ideas to help create an effective journal that ultimately can turn into something life-changing.
To put it simply, writing in a journal is a means of expressing yourself. Many people think that you have to be a good writer to do this, but in the first chapter Samara declares, "If you're a thinker, then you're a writer, for writing is simply thoughts making their way to paper." She makes it sound so easy, doesn't she? Samara presents a different method of expression in each chapter. A few of her suggestions follow:
Express yourself
in other people's words, by copying poetry, song lyrics, and/or quotes into your journal.
in an unsent letter.
in a stream of consciousness; choose a word, an emotion, or ask yourself a question and just write, uninterruptedly.
in a specialty journal – travel, book, dream, restaurant, weightloss – the possibilities are endless!
with goals and lists.
online, through blogging.
One of my favorite elements of the book is how she incorporates not only her own journal entries, but also those of famous historic figures, such as John Wilkes Booth, Tennessee Williams, Lewis Carroll, and Anne Frank, just to name a few. I remember flipping through the Diary of Anne Frank in school, but never delved deep into it. It's now on my "must read" list.
I remember having multiple diaries when I was a little girl. You know – the ones with the cheap little lock and the key that I hid so well I could never find it. I'm sure those diaries are lost at this point, and I doubt I wrote anything of much importance, but I would love to go back to them and see what that girl was like. I also kept a journal during the time I was living in New York, and right after I dropped out of NYU and moved to the DC area. I found solace through writing. As Samara says in the introduction to the book – "It's like crying – you don't know why, but you feel so much better afterwards." That particular journal was undeniably personal, so rather than bending over backwards to hide it, I chose to tear out most of the pages. Destroying it seemed so much easier than dealing with the consequences of it falling into anyone else's hands. Samara shares a story of what happened when her boyfriend read her journal… I won't give it away, but I'm sure you can surmise that it involves heartbreak. Now that I have two daughters, though, I do regret not saving my journals and diaries to share with them in the future.
Samara writes in a no-nonsense, yet completely charming style that makes Note to Self so easy to read. I felt like I was having a conversation with the older sister I never had. Even the journal entries from her younger years are a pleasure to read. You can tell this girl was meant to be a writer! This book would be the perfect gift for a college student, along with a new journal. One chapter is particularly explicit however, so I wouldn't recommend it to anyone younger.
Note to Self has provided me with so much to think about, though I'm not sure if I'm inspired enough to start writing in a private journal again. Having said that, I'll definitely use Samara's suggestions in my blog and look forward to answering some of the questions she poses in future posts. I can easily see myself going back to this book again and again!
Do you write in a journal?
Samara O'Shea writes for the Huffington Post and has her own letter-writing business. Her first book, For the Love of Letters: A 21st-Century Guide to the Art of Letter Writing, stemmed from that. You can find her at https://www.letterlover.net.