Sure, I love my kids, but one of my other most prized possessions is my iPod touch. It's practically attached to me at the hip! Aside from its most obvious use as a music player, I also utilize it to check email, listen to the radio, watch videos, keep an eye on the weather, play games, and chat with family and friends. I even use it as a flashlight when the baby wakes me in the middle of the night! My 4-year old can often be found playing with it; when she can manage to wrestle it out of my hands, that is!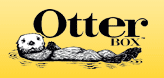 As valuable as my iPod touch is, it's so important for me to protect it. If Maya were to drop it one too many times, or if I were to stumble in the dark and it flew out of my hands, well, I wouldn't be able to replace it very easily. These things aren't cheap, you know! This is why it's taken time and a little trial-and-error for me to find the perfect case.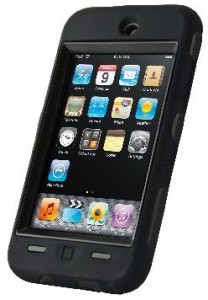 For just over a week now, my iPod has been housed snugly in an OtterBox Defender Series case, and I can finally say that I think I've found the right one. While it's not perfect, it's pretty close.
I tried taking photos, but they just didn't do the case justice, so shown are photos from OtterBox's website. The unique thing about this case is that it has a plastic "skeleton", making it so much sturdier than the simple silicone sleeves I've had in the past. It actually has three layers of protection – a clear, thin membrane that protects the touch screen, the previously-mentioned polycarbonate skeleton, and a silicone skin to absorb shock. It sounds complicated, but in fact is very simple to use.
I cleaned up my iPod before setting it into the polycarbonate shell. This is made up of two separate pieces that snap together, completely surrounding the iPod. The next step is to stretch the silicone cover over the hard plastic case. All the buttons continue to be accessible through the case, even though they are completely covered. I like that both the charge and headphone jacks are concealed with silicone plugs, but easily open up. This is a really unique feature that keeps debris (or little fingers) from getting into the openings, but still lets me plug the iPod into a wall charger without any problems.
The iPod touch has a built-in speaker, so my biggest fear when searching for a case was that the sound, which isn't that loud to begin with, would be muffled. I'm happy to report that this wasn't the case at all with the Defender. Another apprehension that I had was that the case might make my iPod too bulky. Again I was impressed by the fact that it does not. The case itself, even with its separate parts, weighs less than 2 ounces, so it doesn't add much to the sleek iPod.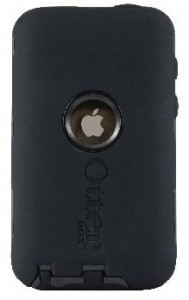 In the past I've been hesitant to buy a black case for my iPods because I've been afraid it would gather dust or fuzzies and just not look as sharp as it should. This doesn't apply to this case whatsoever. It has a very nice feel to it, and I can safely toss it in my diaper bag without worrying about my iPod getting dirty or scratched. It's not waterproof, however if something splashes on it, the iPod is safe because it is completely enclosed.
I do have a couple of issues with this case, the first being the plastic the covers the screen. I didn't find it to be any less sensitive to touch, but I couldn't manage to get all the bubbles out. I can only really notice it when the screen is dark, though, so it's not a big deal. The second is more an issue with something that's missing – some kind of holster to attach it to my belt would be nice. The Defender case does have an opening in the back that shows off the Apple logo nicely, but doesn't seem to serve any other purpose. Both these factors are minor issues, though, considering the overall quality of the case!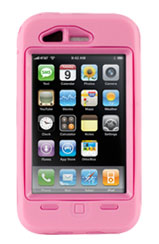 The Defender Series case for the 2nd generation iPod touch only comes in black, but other colors are available in different styles, even beautiful cotton-candy pink! Besides the adorable color, what makes the pink Defender Series Strength cases even more appealing is that 10% of the proceeds go straight to the Avon Breast Cancer Crusade to support access to care and finding a cure for breast cancer. For those guys reading this that bought an iPod nano or iPhone for your sweetie for Valentine's – this would be a great accessory. I only wish they offered the pink one for my iPod touch!
My case retails for $29.95; the rest range in price from to $24.95 for the 3G iPod nano to $49.95 for an iPhone or Blackberry case. Taking into account the amount of protection that the Defender provides, I'd say it's money well-spent! Visit OtterBox.com for more information on the Defender Series and the other products that OtterBox offers. I've got my eyes on a cute little ClipStand…
UPDATE: I was given a tip by an OtterBox representative to help solve the air bubble issue – to use a little puff of baby powder between the screen and the case – and it worked! I use one of the little sample bottles so it really was only a light dusting of baby powder, which didn't make the screen look cloudy at all.