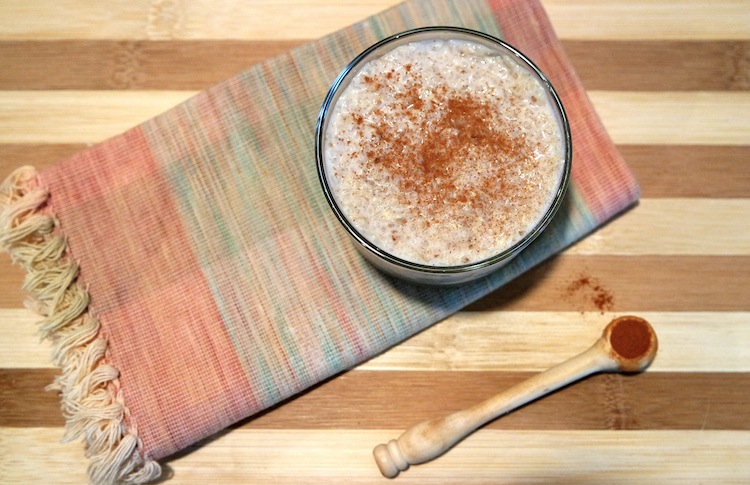 This is part of a sponsored collaboration with MilkPEP and DiMe Media.
However, all opinions expressed are my own.

Hispanic Heritage month is coming to an end soon, and as the autumn food preparation season kicks off and I'm spending more time in the kitchen, I've also been thinking about how so much of our culture revolves around food… preparing it and sharing it. It's crazy how a smell can bring back so many memories! I remember how the entire kitchen would smell of cinnamon when my abuelita, my grandma, would make her arroz con leche (rice pudding). I close my eyes and can see her standing there, stirring the pot.
But I don't eat much rice these days. There are so many other grains that give me more nutritional bang for my buck! Take quinoa, for example. While not technically a grain, it is higher in protein, fiber, calcium, iron (and pretty much every other nutrient), than rice, naturally gluten-free, plus it cooks faster. Quinoa is a relatively new food to me as I didn't discover it until I met my now husband who's from Bolivia, where they eat it every day. I buy it in bulk now, and actually prefer it to rice, so making this substitution was a no-brainer!
QUINOA PUDDING
INGREDIENTS
1 cup quinoa
1 1/2 cups water
salt
cinnamon stick or ground cinnamon
4 cups whole milk
1/4 cup to 1/2 cup sugar (you can always add more)
lemon or orange rind (if desired)
DIRECTIONS
Rinse the quinoa thoroughly in cold water a couple of times. This is very important, as it'll have a bitter taste if you skip this step. Drain the quinoa well, and add it to a pot with 1 1/2 cups water, a pinch of salt and a cinnamon stick or a spoonful of cinnamon powder. Bring to a boil with the lid on, then turn the heat down to a simmer and cook until the water is almost all absorbed, about 10-12 minutes.
Add 2 cups of milk.
Add the sugar.
Add the lemon rind, and increase the heat a little so it comes to a boil again, while stirring often.
Slowly add another cup of milk. Milk boils over easily and makes a BIG mess, so you'll want to watch it carefully.
Reduce heat to low, and simmer for 20 minutes. You'll see the pudding develop a 'skin'; just stir it in.
Slowly add the fourth cup of milk, and continue to cook until the pudding reaches your desired consistency… around 15-30 minutes more. A good way to know when it's ready is if you can see the bottom of the pan when you move the spoon through it.
It's done! Remove from heat and let cool; remove the cinnamon stick and lemon rind (if you can find it!)
Pour into serving dishes. Eat the pudding while still warm, or put it in the fridge to chill. I prefer mine cold, though it's so nice and comforting to have a warm bowl of this on a chilly fall morning!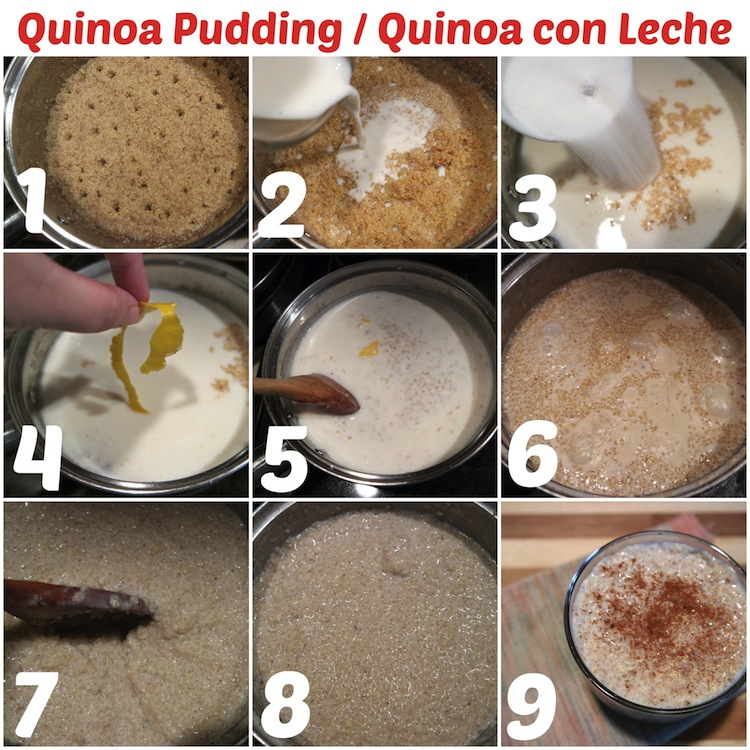 Using whole milk gives the pudding a nice thickness, but you can always substitute reduced fat milk, of course, which packs the same nutrient-rich punch as whole milk, but with fewer calories and fat. You just might have to cook it a little longer and use a tad less milk to achieve the same creaminess.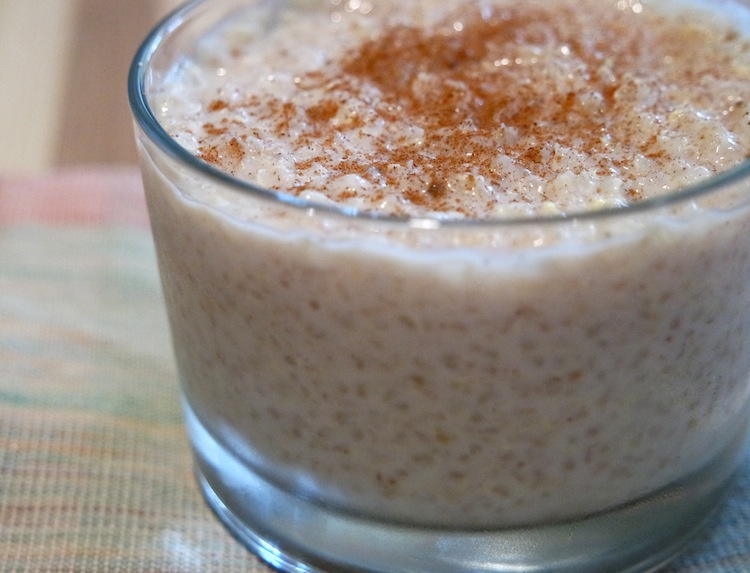 I used ground cinnamon this time, because I ran out of cinnamon sticks, but either works. You'll definitely get more 'spiciness' from the powder. The lemon rind adds a really unique flavor, too, but you can always leave it out or experiment with different fruits.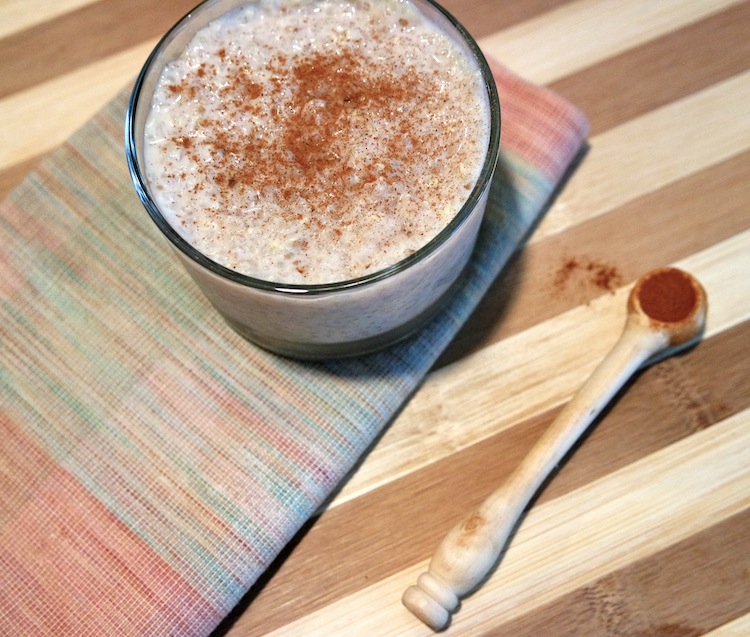 Eat the quinoa pudding just like this, or top it with chopped apple, walnuts and a drizzle of maple syrup for a more filling meal. The pudding almost has the consistency of tapioca, which I absolutely loved as a child! I wonder what my abuelita would think of my version of this traditional Mexican dessert? 😉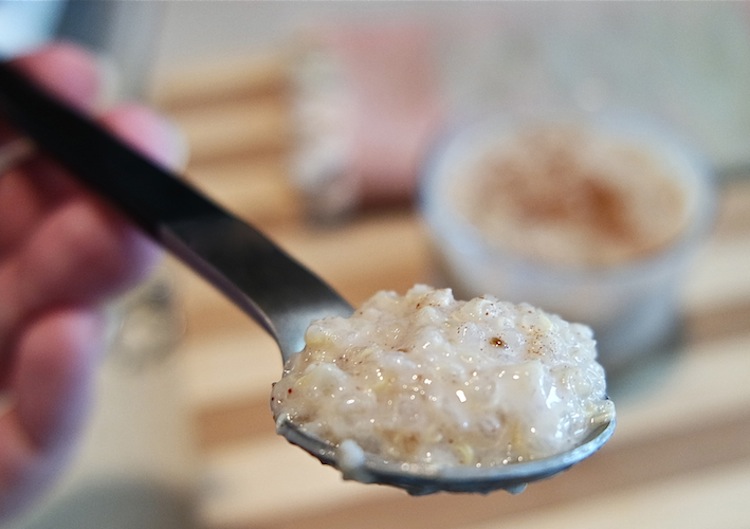 Besides arroz con leche, these are a few more of my favorite Mexican beverages and desserts that have milk as a base:
atole (hot drink made from corn or oats)
cajeta (Mexican 'dulce de leche')
chocolate caliente (hot chocolate)
flan (custard)
horchata (rice milk)
pastel de tres leches (three milk cake)
pay de limón (lime pie)
Adding milk to some of my other dishes is an easy way to add a boost of high-quality protein to our meals. For example, at breakfast you'll find milk in our smoothies, crêpes, and pancakes, and I'll add a splash of it to scrambled eggs, too. At dinner, I add milk to mashed potatoes, quiches, sauces, and soups. Adding milk to broth turns a bland soup into a creamy meal with added protein!
In fact, an 8 oz. glass of milk contains 9 essential nutrients, including 8 grams of high-quality protein for muscle development, B vitamins for energy, vitamin A for a healthy immune system, and bone-building nutrients like calcium and vitamin D. That's more protein than in a large egg! From muscles to hair, and bones to teeth, both growing kids and full-grown adults need protein to be strong and healthy. Plus, at just about 25 cents a glass, milk is one of the most affordable sources of protein you can find at the grocery store.
My kids usually start and finish their day with a glass of milk. "Es lo que nos hace fuertes, no?" my daughter asked me once. "It's what makes us strong!" Here's a great video, created by Milk Life, about how milk is such a big part of our Mexican culture.
And here's Chef Giorgio Rapicavoli with another twist on arroz con leche:
How do you make sure your kids get the nutrients they need?