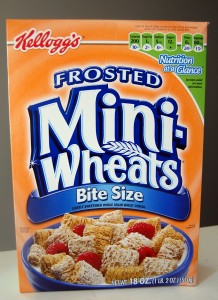 Kellogg's is currently promoting a healthy-eating initiative called Snacktivate. Much like Childhood is Calling, Snacktivate provides moms with ideas to make eating healthy AND fun. The Kellogg Company was kind enough to send me a couple of boxes of Frosted Mini Wheats®, a Cereal-to-Go Cup, and a recipe for Sassy Sunpops to try out.
The Sunpops are crunchy peanut butter cookies decorated to look like sunflowers. Insert a stick in them before baking, and they can be placed in a little vase – all the makings of a cute, homemade gift. As much as I'd love to try out the Sunpops recipe, we're unable to do so at the moment because most of our baking supplies are packed away due to our moving situation. There are 11 other fun recipes to try out that don't all require culinary skills!
The Snacktivate website offers some useful tips, such as these 4 steps to good nutrition:
Plan It – Have a specific snack time schedule. Maya can't tell time just yet, but she knows exactly when it's snack time – 10am, after we play outside in the afternoon, and when she wakes up from her nap. I try to always combine carbs with protein (learned that during my last pregnancy, due to having Gestational Diabetes). String cheese and crackers, apple slices with peanut butter, yogurt with fresh fruit, etc. are just a few examples of this. I have lots of pre-packaged and pre-portioned snacks within reach, so it's easy.
Pick It – Use ChooseMyPlate.gov to figure out how much of what food groups you should eat. Kids imitate their parents, so set a good example now. I can easily spend 30 minutes in the produce aisle at the grocery store talking to Maya about all the varieties of fruits and veggies available.
Make It – The key is to be creative! And let your kids help. I find that Maya will eat ANYTHING that she helps me prepare. Sure, it tends to take longer and is messier, but worth it if I can get her to eat something besides mac & cheese or chicken nuggets.
Move It – Keep your family active! It kills me when I see a 3 year-old being pushed around in a stroller. There are so many ways for kids to burn off energy, from taking walks to simply playing 'tag' in the backyard.
As for the Cereal-to-Go Cup – the idea behind it is brilliant! The bottom compartment has freezer gel inside it to keep milk cold. All you have to do is leave it in the freezer for a few hours. The top compartment is a bowl, big enough to hold a cup or so of your favorite cereal. The best part is the foldable spoon that fits into the lid! The lid can be snapped under the bowl to catch any spills. It's perfect for kids to take to daycare, or for just anyone to take their breakfast to work with them.
Maya insists on using this cup even though we usually eat breakfast at home. The morning after we received it, she woke up early, went downstairs, opened the fridge, and made her own bowl of cereal, to my surprise. She also turned on the TV, in an attempt at watching cartoons, but was unsuccessful at finding the right channel!
So visit Snacktivate and try out a recipe or two! I always have at least one Kellogg product in my pantry, as I'm sure most of us do. You can find the Cereal-to-Go Cup at the Kellogg Store.
** Thank you to Mom Central! **