Both supermarkets and Hollywood have been criticized for promoting and selling too much junk food to children, contributing to a nationwide epidemic of obesity. Warner Bros. Consumer Products has partnered exclusively with Safeway to change this, offering a "better for you" eating solution for kids: the Eating Right Kids food and beverage line, featuring the beloved Looney Tunes characters – Bugs Bunny, Tweety, Taz, Sylvester, Wile E. Coyote, Roadrunner, Marvin the Martian and Daffy Duck – on the packaging.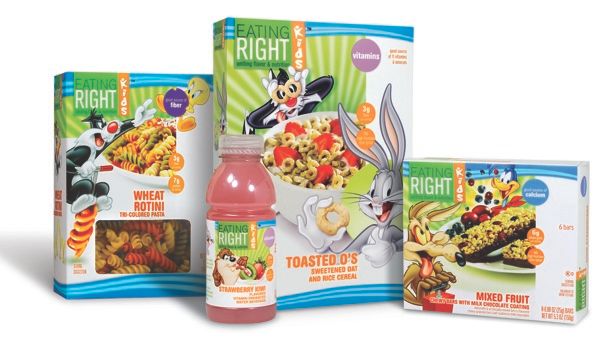 We sampled several products from the line, including the Kids Mixed Berry Milk Chocolate Coating Chewy Bars, Kids 100% Juice, and a box of the Wheat Rotini, all pictured above. The chewy granola bars were delicious! They have berry pieces scattered throughout, and a light coating of chocolate on one side. Just enough to make my kids feel like they're having a true treat. These bars are a good source of calcium, with 6 grams of whole grains per serving and no high fructose corn syrup. The juice comes in 10 oz bottles, in a variety of flavors. My girls don't drink juice much, so they obviously loved it! I appreciate that it's not overly sweet. It's an easy way for kids to get 100% of their daily value of vitamin C, with no corn syrup in sight. Each serving also provides 10% of their daily value of calcium. The Wheat Rotini was my personal favorite. The colorful orange and green rotini is appealing to kids, and the fiber content is appealing to me! It tasted like regular pasta, with none of the whole-graininess I usually come to expect from wheat pastas.
Some highlights of the Eating Right Kids line:
Formulated to standards based on the most recent dietary recommendations and regulations from several federal and state agencies.
Features more than 60 items across 18 categories including breakfast foods, produce, portable meals, dairy, snacks, beverages and frozen entrees.
Available at more than 1700 Safeway locations throughout the U.S. and Canada.
Recognized by the Federal Trade Commission for its ability to have a positive impact on childhood obesity.
This seems to be a great way of using the Looney Tunes characters' enduring popularity with kids in a really positive manner. In addition, Warner Bros. will no longer feature its characters on any less-healthy food products, other than certain ice cream products or birthday cakes.
An extension of the Eating Right line of nutritional foods for adults, you can find Eating Right Kids products exclusively at Safeway stores.
This post was written as part of a program for Team Mom, Warner Bros. and Safeway, who provided the products for review.