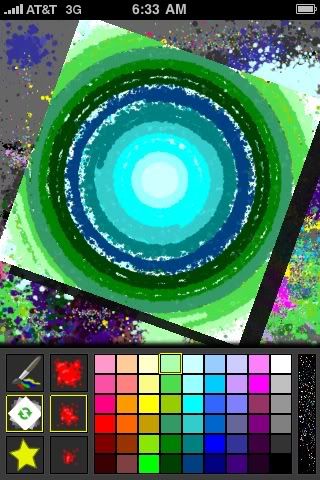 My 5-year-old has a new iPod touch. Well, it's new to her. Her daddy bought her a used 1st generation one and we gave it to her last night. Since it's the original model, it doesn't have a built-in speaker, which I love! She's not a fan of headphones, so she has to either play her games silently, or plug it into her iDog which isn't very loud to begin with. Yesterday, I loaded her iPod up with her collection of songs and a bunch of free apps.
I did take a moment to purchase one app – SpinArt.
SpinArt is based on one of our favorite childhood crafts – remember putting a piece of paper on a turntable, spinning it around, and squeezing paint on it? I recall doing something with a salad spinner at home once, but that didn't turn out as well as the ones I did at school. But I digress… the SpinArt app provides you with all the fun of the original, but without the mess!
It's easy to use. You start off with a blank canvas in your choice of colors. To get things started, press the spin button, and either move your fingers across the screen, or double-tap to get it spinning really fast. You then choose a color, as well as the thickness of your paint splatter, and touch the screen… over and over. When you're all finished with your masterpiece, double-tap to stop the spinning, and then you can save it to your photo library, share it with friends by email, add it to the flickr SpinArt group, and more.
It's as fun for me as it is for my daughter! I think I made this obvious, as she told me, reassuringly, "You can borrow it when I go to bed, mom. I don't mind." And that's just what I did. 😉
BUY IT!
SpinArt's on sale for 50% off for a limited time – well worth the 99 cents.
Buy it on
Here's a video review by iStartMacRumors so that you can see how SpinArt works…