This summer, I'm declaring my Sweet Independence from stress. I know it's easier said than done, but I'm making an effort, truly. I've gotten rid of a ton of physical clutter in my house hoping that will simplify things. I'm learning to say "no" more often as to not spread myself too thin. I know that if I leave dishes in the sink at night so I can read a bedtime story to my kids, then go to bed myself, that it's okay. There's no one to judge me but me, and those dishes will still be there in the morning, so there's no sense in stressing over it. I'm paying attention to how I feel in order to recognize when I'm stressed and what triggers it. Sometimes something as little as taking a short nap, going for a walk, or taking a bubble bath helps. It's the simple pleasures.
Speaking of simple pleasures, Hershey invites you to celebrate "Sweet Independence" this summer with the introduction of its new product, Hershey's Simple Pleasures chocolates! They're SO good!
Hershey's Simple Pleasures chocolates have 30 percent less fat than the average leading milk chocolates, giving you "Sweet Independence" to enjoy delicious, rich and creamy chocolate anytime and feel great about loving it. How would you feel if you could eat chocolate and feel really good about it? Yeah, me too.
Made using the highest-quality ingredients, these chocolates are available in three varieties, Milk Chocolate with Chocolate Creme, Dark Chocolate with Chocolate Creme, and Milk Chocolate with Vanilla Creme. Each bite-size chocolate has a smooth chocolate outside with a rich creme-filled center.
I've tried all three varieties and definitely have a favorite – Dark Chocolate with Chocolate Creme. Not too sweet, but perfectly rich… just how I like my chocolate! The Milk Chocolate with Chocolate Creme is close behind, and that was the most popular one with my family and friends. Gone before I could even get a photo! My kids LOVED the Milk Chocolate with Vanilla Creme, but it was a little too sweet for my taste. The creme just oozed out "like yummy white icing!" my daughter Maya declared, licking her lips. I like that these chocolates are individually wrapped for easy portion control. 24 in each bag, and 3 in a serving.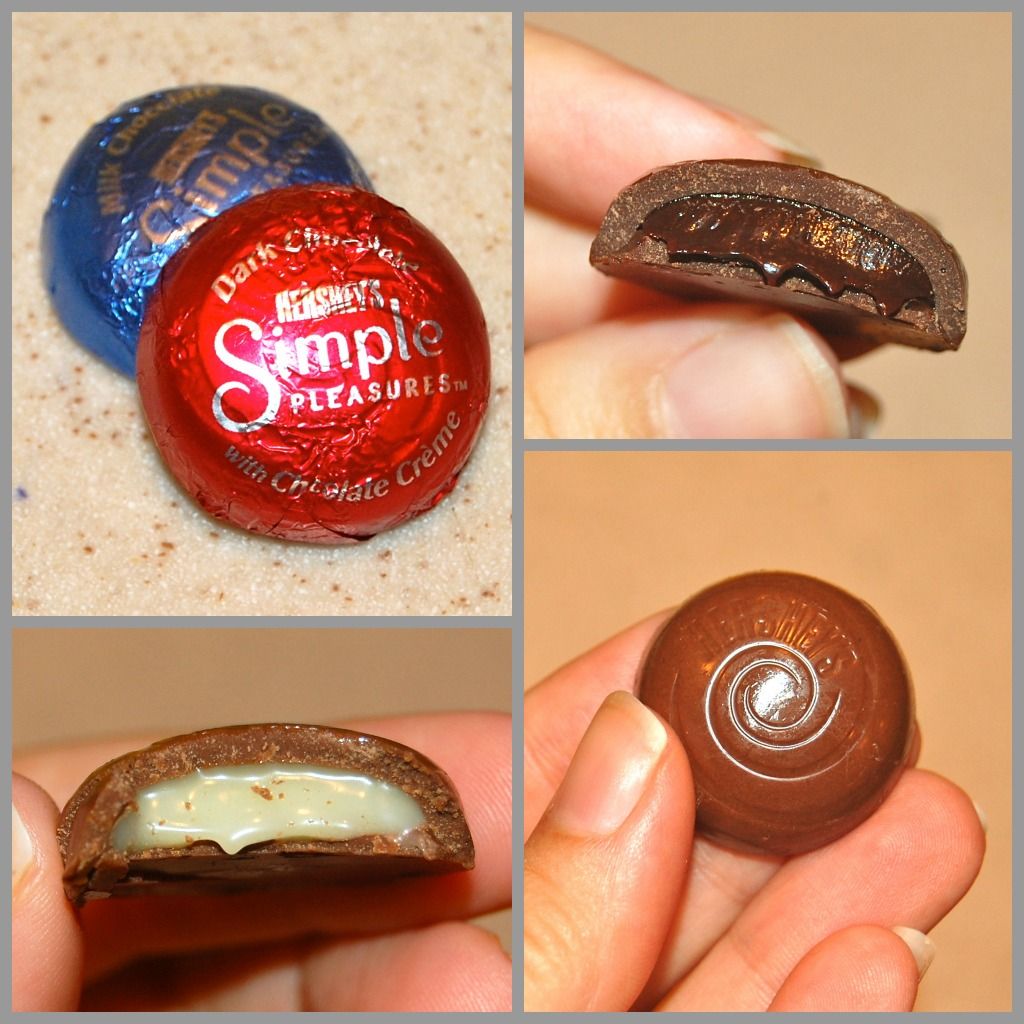 Disclosure: This is a spon­sored post through The Motherhood and Hershey's. I received Hershey's Simple Pleasures chocolates to facilitate my review and a gift card to thank me for my time.