Filtrete by 3M provided me with a year's worth of air filters for my participation in this Mom It Forward campaign, but I've used the brand for years, and all opinions are my own.
When is the last time you changed your air filter? I would ALWAYS forget so I finally put an alarm on my phone to remind me to check it every 30 days and change it if necessary. Don't wait for your husband to do it! It's a simple task that only takes a minute or two to do. The AC is on practically 24/7 in the summer months, and the furnace runs consistently in the winter, but in between, we can probably go 3 months without changing the filter.
While you may think you're saving money by not changing your air filter often, I wouldn't recommend waiting until the filter is completely filthy to change it – at that point it's probably affecting the efficiency of the heating and cooling system. Not changing the air filter frequently can often lead to the system breaking down much sooner since it has to work harder and run longer to heat/cool the air… not to mention your energy bills skyrocketing! And there goes the money you saved (and much, much more!)
My main concern, however, is air quality. That's the reason for using the air filter in the first place! Did you know that, according to the EPA, the air inside your home could be 2-5 times worse than the air outdoors? Air filters, like this Filtrete Filter by 3M below, maintain healthier indoor air by capturing airborne dust, allergens, bacteria, and viruses, helping create a healthy home.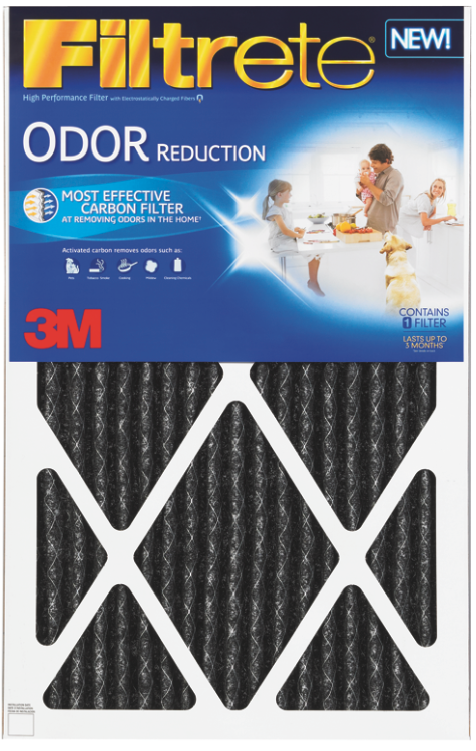 And what about smells? Like most homeowners, I've often turned to air fresheners to mask odors in our home. (Our basement can get particularly stinky during the summer months!) I didn't realize that by doing this I can actually be contributing to poor indoor air quality. According to the EPA, these types of products release VOCs into the air. And scented candles and incense may contain particulates, soot, and chemicals. Do you really want to breath all that in? These products only mask the smells, anyway, but won't remove odors throughout your home.
This is where the Filtrete Odor Reduction Filter comes in. It has a unique two-sided design- one side captures large airborne particles and the other removes household odors, such as those from cooking, tobacco smoke, pets, mildew, and cleaning chemicals. You don't have to wait for it to 'kick in' – it starts to remove odors in minutes after the furnace fan is turned on! As far as indoor air quality goes, this filter helps to improve it by capturing airborne allergens such as pollen, mold spores, dust mite debris, smoke, pet dander, and smog that are in the air that passes through the filter. We've had ours in for about a month now, and are happy with it! But we've been loyal Filtrete customers for a long time, so we don't really have any other brand to compare it to.
With a suggested retail price of $15.99, the Filtrete Odor Reduction Filter can be purchased at national retailers like Lowe's, Target, Walmart, and Costco. You can also find them at your local hardware store. The Filtrete brand from 3M makes an entire line of air filters – you're certain to find one for your family's needs!
To learn more about Filtrete Filters, please visit: