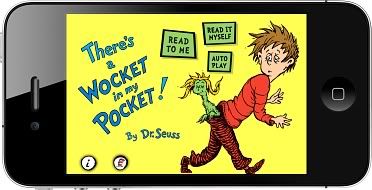 Dr. Seuss books have always been a favorite of mine. So it amazes me that in today's digital age Dr. Seuss continues to delight my technologically savvy young children. They enjoy the predictable and witty rhyme schemes, the silly stories, and the simple, colorful drawings just as I did.
For these reasons, I was happy to see that a new app for "There's a Wocket in My Pocket" stays true to the beloved classic story of a tour of a young boy's house which he shares with many unusual, out-of this-world creatures.
The app provides several options including "Read to Me", "Read it Myself", and "Auto Play". "Read to Me" allows the user to "turn the pages" with the swipe of a finger. Tap finger on an object and its name pops up and is spoken out loud by the narrator, a friendly "any mom." For children eager to read, but not quite there yet, individual words are highlighted as the story is read for easy following along. "Read to Myself" is for more fluent readers and lets children read and turn the pages at his/her own pace. "Auto Play" is perfect entertainment for a preschooler in the backseat of the car while stuck in traffic.
The sound effects are clever and the made-up words like "jertain" and "zlock" are catchy. My little ones keep going back to this app despite the lack of bells and whistles seen in other apps for early readers. This Dr. Seuss app does what Dr Seuss books do best – engages young imaginations and makes (pre-) reading fun.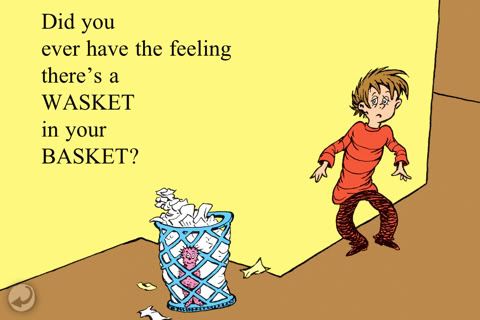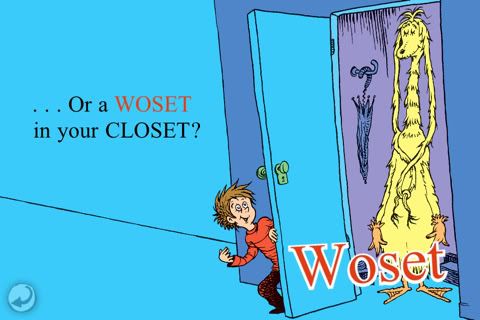 Buy it!
Regularly priced at $3.99, "There's a Wocket in My Pocket!" is on sale now for $1.99, and available for the iPhone, iPod touch, iPad, Android, and Nook. Find it at:
News from Oceanhouse Media
Oceanhouse Media is kicking off its Back to School Sale today with 10 Dr. Seuss omBooks (Oceanhouse Media digital books) reduced to $1.99 each now through September 4. For a five week period, from today through October 2, a new selection of omBooks will be on sale each week from popular series such as The Berenstain Bears, Little Critter, Five Little Monkeys and Smithsonian Collection. Visit the Oceanhouse Media Facebook page each Monday in September to find out which omBooks will be on sale for that week. This week's sale includes: Oh Say Can You Say? (released today), Dr. Seuss's ABC, Green Eggs and Ham, The Cat in the Hat, The Cat in the Hat Comes Back, I Can Read With My Eyes Shut!, One Fish Two Fish Red Fish Blue Fish, Mr. Brown Can Moo! Can You?, Fox in Socks, and There's A Wocket in My Pocket!
Participate in the Back to School Twitter Party TONIGHT, August 29th, at 6 pm PDT / 9 pm EST with hashtag #OMB2S. Throughout the party you'll have chances to win promo codes for fun omBooks! RSVP here.
Enter The Back to Seuss Giveaway for a chance to win a collection of 20 Dr. Seuss omBooks for your iPad, iPhone or iPod Touch. The winner will be announced September 1st, so hurry!
And lastly, for those parents trying to fit potty training in this summer, the Once Upon a Potty omBooks are on sale for just 99 cents!
Disclosure: Nicole was provided with a complimentary copy of the app for review purposes.