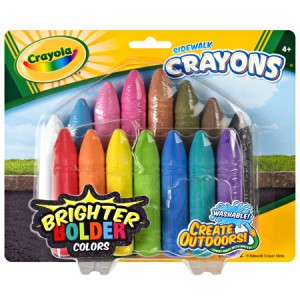 Spring is here and that means spending lots of time outdoors! If you're looking for ideas of what to do outside with your kids during the warm weather months, Time To Play (www.timetoplaymag.com) has tons of great toy suggestions for every budget, from chalk and bubbles to ride on toys and water slides!
We got our hands on a set of Crayola Sidewalk Crayons (one of tonight's door prizes, by the way) and they are AWESOME! Probably the best sidewalk chalk I've ever had the pleasure of using. And yes, I get down and dirty, drawing pictures and playing hopscotch with my girls!
These crayons are brighter and bolder than ordinary sidewalk chalk! Maya loved all the shades of pink and purple, especially. I love that they don't leave the usual chalky residue all over your hands so clean up is a cinch! I also found that the drawings washed away almost completely with this morning's rain, and whatever was left was easily cleaned up with a spray of the hose.

Crayola Sidewalk Crayons come in a pack of 15, retail for $4.99, and are best for kids 4 and up (any younger and they tend to eat the chalk, from my own experience). The crayons also work well with other Crayola sidewalk chalk tools, like the Rainbow Rake.
Now if only Crayola could invent chalk that didn't break…
Thanks to Momfluence and Time To Play for this review opportunity!