That is my mantra when it comes to Christmas shopping. If it sounds familiar, that's because I borrowed it from T.J. Maxx. Yesterday I went there and to Marshalls with the goal of buying a few last-minute gifts, and checking out the sales. I love the clearance racks.
The thing about shopping at these stores is you have to venture in with an open mind. You can't expect to find exactly what you're looking for because the inventory changes so often. That said, you are certain to find great deals on Christmas gifts for everyone on your list. I found a cute Chicco vanity for my niece at T.J. Maxx for under $50. I love how most of the toys are set out on tables, organized by price. It's a much more practical way than how other major discount stores do it.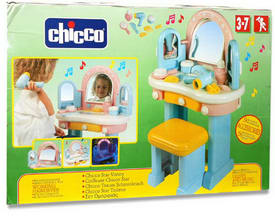 When I get home, inevitably I always grab my receipt and run straight to my computer to do a little research and figure out precisely just how much of a bargain I really got. I couldn't find the Chicco vanity sold by any U.S. retailers, but in Australia and Italy it retails for $75 to just under $100 in American dollars (Chicco is an Italian brand). Yes, I got a good deal, but more importantly, my niece will have a very unique and fun toy to play with!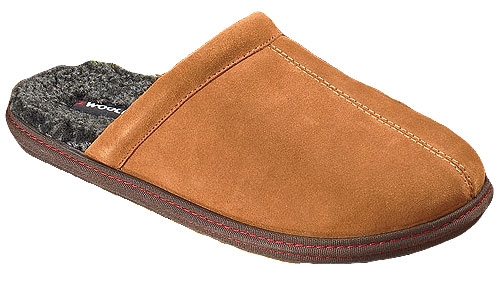 At Marshalls, I can always find amazing shoes. I have a penchant for Ralph Lauren, Nine West, and Kenneth Cole, myself, and can always find Stride Rites for the girls at a third of what they normally cost. Last year I bought a pair of navy blue Ralph Lauren flats for $19.99, and found them on Zappos for over $100! So not only were these shoes a total steal, but that tells me that Marshalls sells what's in season! Yesterday I bought hubby some super comfy Woolrich slippers since I noticed his current pair is quite worn out. They are very similar to these, which retail for $39 on the Woolrich website, yet I nabbed them for just under $20!
One of my favorite things to do is buy little treats like gourmet chocolates and add them to gift baskets. I put together several for a few of my husband's major clients, added a bottle of wine to each from our own collection, and wrapped them with cellophane and a ribbon. Not to toot my own horn or anything, but I can assure you that they would give any you could find in a wine gift catalog a run for their money.
I just found a really neat tool on both the T.J. Maxx and Marshalls websites. It's called "What's In", and is a social shopping utility. With daily alerts and insider tips from real consumers, it's designed to make you a better, smarter shopper. You'll always know what's in, when it's in, so you'll have an idea of when your favorite designers are in stock.
If you're still searching for that last minute gift, it's likely that one of these stores is nearby! My only mistake yesterday was taking my 4-year old along. Like a broken record, there was an endless stream of "I want, I want, I want". Thanks to the good prices at stores like Marshall's and T.J. Maxx, this year she's more likely to get, get, get!