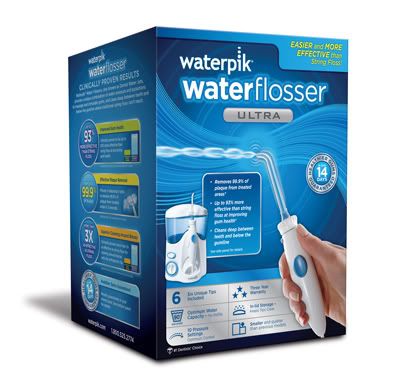 There are many things I admire about my husband, and one of them is that he flosses every single day. I on the other hand only seem to remember to floss every few weeks, swearing that I will do it every day after each trip to the dentist.
We recently were sent the Waterpik Ultra Water Flosser to review. My husband had used the old model years ago, so was a little hesitant to try this new version. He has two crowns and an implant so he was intrigued to try it. He was pleasantly surprised!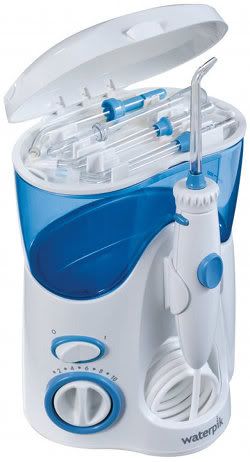 The flosser comes with six unique tips: one Plaque Seeker Tip, one Classic Jet Tip, one Orthodontic Tip, one Pik Pocket Tip, one Toothbrush Tip, and one Tongue Cleaner. There is a reservoir lid that can hold 4 of the tips which is great for storage. That is also the only downside to this product; he didn't understand why you get 6 piks but there is only storage for four.
My husband was really impressed with his flosser from the first use. He likes the pause button, the fact that the unit is more compact, and appreciates having the choice of the different tips during the flossing. He even thinks that it will save time rather than traditional flossing. We haven't had it long enough to see if he has any plaque build up with this routine, but all and all, my husband really likes the Waterpik Ultra Water Flosser. You never know, it might even get me to floss on a more regular basis!
COOL FEATURES
6 different tips
10 pressure settings
Pause button on the handle
Quieter and more compact than previous models
Convenient built-in tip storage
BUY IT
Time for a little spring "cleaning" of your own? According to the WaterPik website, the Waterpik Ultra Water Flosser is clinically proven 50% more effective than traditional dental floss, and laboratory tests have shown it removes 99.9% of plaque from treated areas with a 3 second application. 3 seconds! The flosser retails for $59.99 and is available online and in stores (at Amazon.com, Kmart, Target, Walmart, and more). Use this coupon to get a free storage case and free shipping when you purchase additional tips for the rest of the family.
For more information, please visit:
Disclosure: I received compensation and/or a free product to facilitate this review, but all opinions are my own.