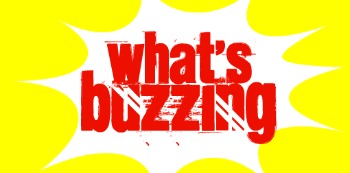 It's been quiet around here. I know. I've just been kind of feeling 'blah' lately. I'm not going to Blogalicious next week, which I'm bummed about, and generally just having a hard time balancing online life and offline reality. What's new, right? 😉
As always, the following is a roundup of great stuff I've found while browsing the Internet over the past week. Add your own links at the bottom of the page!
APPS
Two of my favorite game apps right now are Peggle and Where's My Water. Peggle (iPhone and iPad) is an arcade-style game where you have to clear pegs my shooting them. Best description I can give you LOL! I also have it on my Android phone. Where's My Water (universal app) is the #1 game in the iTunes app store at the moment, I believe. In this game, you have to help guide water into Swampy the Alligator's bathtub. Sounds simple, but this challenging physics-based puzzler is anything but! Both games are total time sucks, but so fun!
Facebook finally came out with an iPad app last week. It only took 'em a year and a half. NBC also recently upgraded its iPad app so that you can watch entire episodes on the tablet. Like ABC and CBS have done from the beginning.
BLOGGING
I found this useful! Sample Invoice for Writing & Editing Work. About Freelance Writing.
Should Kids Blog? My oldest has already shown an interest. I told her she has to wait until she's 10, then maybe… ProBlogger.
COOL WEBSITES
Get Schooled. As students across the country get back into the swing of school, too many teenagers are stepping out and missing class. Studies show that students with more than 10 absences in a school year risk falling behind. Students with more than 20 absences have only a one-in-five chance of graduating. The Get Schooled Foundation launched the Wake Up and Get Schooled campaign aimed at encouraging more students to get to school every day. A diverse group of celebrity entertainers and athletes are donating their time and talent to offer these youths a wake-up call. Students nationwide can sign up on GetSchooled.com to receive phone calls with pre-recorded morning wake up messages from some of their favorite celebrities including Baron Davis, Ciara, Cappie Pondexter, Greyson Chance, Jesse McCartney, Nicki Minaj, Trey Songz, and Wiz Khalifa. Additional celebrities are recording wake up calls every day. The pre-recorded messages, running throughout the school year until June 2012, stress the importance of getting up and going to school every day.
ShareAGift.com is a brand new "social gifting" website that just launched. It allows groups of people to pool their money online in order to get someone a great gift – one you wouldn't be able to afford alone. For example, an iPad or a trip to Paris, rather than the scented candle you were planning to buy. It's a great service for the holidays or special occasions like weddings, birthdays, graduations and more. Sounds like a cool concept!
DIET & FITNESS
FOOD
FREEBIES
October is all about trick or treating, and Softlips is more interested in the "TREAT!" Every Tuesday in October, at noon ET, 10 winners will be randomly selected to win a cute Softlips T-Shirt and two dual-packs of Softlips lip balms. Visit www.facebook.com/softlips to enter. Sweepstakes ends on October 25.
GOOD CAUSE
Stonyfield just launched a great campaign to support the nonprofit Breastcancer.org. You can help by going to www.click4breastcancer.org where you can read, listen to, and watch the stories of those affected by breast cancer. You're encouraged to "like" and share these stories with others through your blog, Facebook, Twitter, and email. Each action generates a "click" and every time you perform one – such as "liking" or commenting on a story, sharing your own story, adding to the word cloud by clicking "for" someone, sending an email, or tweeting – Stonyfield donates $.10 to Breastcancer.org. It's that easy. You don't have to submit any personal information, make a donation, or anything like that.
PHOTOGRAPHY
HEALTH & SAFETY
Wellness+ for diabetes is Rite Aid's new loyalty program offering exclusive resources and savings specifically to people living with diabetes and their caregivers. What it means for savers is that there are now exclusive wellness+ for diabetes rewards, including a $10 +UP Reward for every $50 purchase of eligible diabetes-related products. And for members bringing in a new diabetes prescription, there are welcome packages containing more than $100 in savings on a variety of diabetes-related products. But the biggest component of this new program is the informational and lifestyle tracking components, which are available exclusively to Rite Aid wellness+ for diabetes members and are created in collaboration with WebMD. Check out www.riteaid.com/diabetes for more information or to enroll.
TECHNOLOGY
TOYS
Through November 10th, Radio Flyer is auctioning off Style N' Ride Scooters featuring autographs from Hollywood's hottest stars. All proceeds benefit the Partnership for a Healthier America (PHA), which was created last year along with Let's Move!, and is led by honorary co-chair First Lady Michelle Obama. Each week brings a new round of auctions. This week, the bidding starts on scooters signed by: Stefanie Scott, Boo Boo Stewart & sister Fivel, Madison de la Garza, Maggie Q., Lucas Neff, Mark Wahlberg, and Tyra Banks. October 24-November 3: Apl.de.ap, Sterling Knight, Francia Raisa, Sean Kingston, Michael "The Miz" Mizanin, and Ashton Kutcher. October 31-November 10: Fergie, Demi Lovato, Kellan Lutz, Malese Jow, We Are Th3 Dorks, and One Republic. Check out the auction's site: https://is.gd/radioflyer.
Raskullz – the maker of the totally awesome 3D helmets for kids – is taking their creative mastery to the world of bicycles and launching a brand new line of bikes. Taking bikes from boring to basic to adding some whimsy that will embrace a child's fantasy of riding around on the back of a T-Rex or prancing atop a unicorn. Retailing for $79.99, these bikes will be exclusively rolling into Walmart starting in November. To celebrate the launch, Raskullz is holding a photo contest where parents can enter to win a new Raskullz bike for their little ones! Send in your best Raskullz snapshot for your chance to win. Submit photos to info (at) cpreme.com. Contest ends October 31st.
TV
Dora and Boots invite kids into a magical land of dragons, elves and fairies to help a unicorn king in the epic three-part event, Dora's Enchanted Forest Adventures, beginning tomorrow on Nickelodeon. Jason Alexander (Seinfeld) guest stars as the voice of a greedy owl in the trilogy that kicks off with "Tale of the Unicorn King" on Monday, Oct. 17, 9-9:30 a.m. ET/PT. The adventure continues with "Secret of Atlantis," on Monday, Nov. 7, 9-9:30 a.m. ET/PT, and culminates with the hour-long, primetime special, "Dora Saves King Unicornio," on Sunday, Nov. 20, 8-9 p.m. ET/PT. Nickelodeon's website (www.nickjr.com) will feature a brand-new interactive game and activities to complement the Dora's Enchanted Forest Adventures premieres.
The sight of a cuddly baby or a cute puppy makes hearts melt, but which one is cuter? Find out in Animal Planet's Puppies vs. Babies. AnimalPlanet.com is holding a casting call now for the cutest puppy and baby in America to compete in a head-to-head showdown. Submit your cute photo now and you could win $5,000! And tune in for the new series, Puppies vs. Babies, Saturdays at 10 PM ET/PT.
TRAVEL
CONTESTS & PROMOTIONS
Help Conair spread the hair love by helping the Conair Corp. Facebook page reach the 50,000 fan milestone. When it does, the brand will announce their next giveaway for 50 winners! "LIKE" Conair at www.facebook.com/conairhair.
I'm not usually a fan of voting contests, but this one sounds fun. Back by popular demand from parents and teachers, Del Monte Fresh Produce, N.A., Inc. is holding its second annual online contest "Teacher Monday: Cash for Classrooms" at www.fruits.com. The promotion encourages kindergarten thru 12th grade school teachers across North America to incorporate healthy eating and living messages into classroom activities. During six weeks this fall, 60 teachers will win cash to purchase school supplies and fresh fruit. Ten schools will also win a salad bar for their school. Many more winners will get a Del Monte Fresh Field Day event for their school in which the entire student body will enjoy a day of Del Monte fresh fruit, games and fun activities. To be eligible to win, teachers must register for "Teacher Monday: Cash for Classrooms" online contest at www.fruits.com then encourage all their fans to vote for them online.
Have a great week!