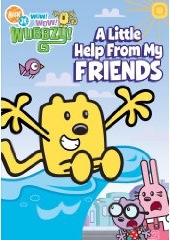 Wow! Wow! Wubbzy! A Little Help from My Friends just came out earlier this month. We were provided with a copy to review on behalf of Mom Central, and both my girls LOVED it, which wasn't surprising! This show airs nearly 40 times a week on Nick Jr. and Noggin, so we are very familar with it. My 18-month old runs over to the TV as fast as she can when she hears the theme song!
I try to choose what they watch carefully, and Wow! Wow! Wubbzy! is one of those shows that's a no-brainer – it provides kids with a positive example and showcases the importance of values such as honesty, cooperation, and fairness, all while having fun! Kids pick up so much from what they watch on TV. Because of this show, my 4-year old now calls kickball, kickety-kick ball (Wubbzy's favorite game), and has adopted several of the character's catchphrases, specifically, Daizy's "very interesting" and Widget's "no problemo!" It's adorable!
A Little Help from My Friends features six great episodes, all focused on the important values of friendship. This theme takes center stage as Wubbzy, a fun, lovable, curious little guy and his Wuzzleburg pals search for a lost Wiggle Wrench, escape a runaway Doodleberry Cake, build a Super Robot, teach Walden to boogie, and work hard for Wuzzleburg trophies. Together they discover the importance confidence, cooperation, teamwork and above all, the meaning of friendship.  The DVD extras include two bonus episodes, a music video, Kooky Kostume game, activities and sneak peeks. You can purchase it anywhere DVDs are sold, or online at Amazon and Wal-Mart.com. Over 90 minutes of Wubbzy fun for less than 12 bucks – such a great value for an eight-episode DVD!
Parents can get involved by visiting www.wubbzy.com where you can join the "Wubb Club," sign up for the newsletter, and read the Wubbzy Blog. The site also provides fun activities, recipes, printable coloring pages, and much more! It's a wonderful way to spend some quality time together after watching the show. If you have an iPod or other mp3 player, I highly recommend subscribing to the Wubbcast, thought it hasn't been updated in a while. You can find a link on the Wubbzy site, or search for it at the iTunes store. Like most podcasts, it's free, and lets you take Wubbzy with you wherever you go! It's touted as the "world's first video podcast for pre-schoolers" and I believe that because I haven't found anything like it.
Do your kids watch Wow! Wow! Wubbzy!?