And I'm not ready! I haven't decided what my girls are going to wear, haven't bought tickets for Boo at the Zoo, and haven't brought down the Halloween decorations from the attic yet. We're hosting the neighborhood Halloween party/parade this year, so I better get my act together.
One of my favorite restaurants EVER is this place a few miles away called 2941. It's pretty pricey, so we don't dine there as often as I'd like, but every time we do it's really memorable. I saw that they're serving a special Halloween dessert, and just had to share it with you…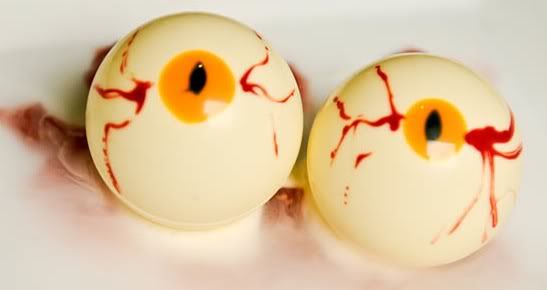 Created by pastry chef Anthony Chavez, Eye Scream is made from Valrhona white chocolate, pistachio mousse and raspberry-lychee coulis, and is presented on a bed of dry ice to look like a pair of smoking eyeballs. This will only be on the dinner menu thru the end of the month. It looks eerily beautiful and yummy!
Stay tuned for some Halloween-themed reviews…